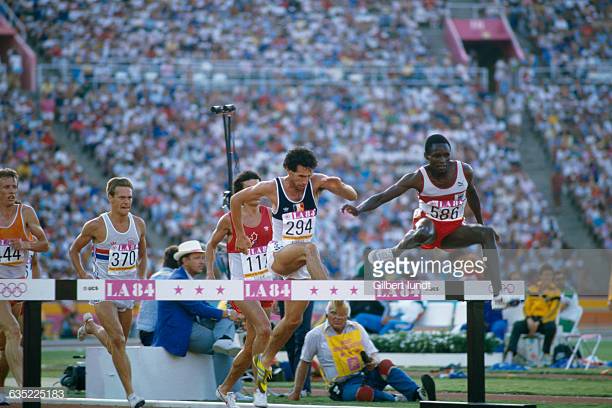 Background
The 1984 Summer Olympics were held in Los Angeles, California, USA from July 28 to August 12. Kenya was returning to the Olympics after a 12 year hiatus, having boycotted the 1976 Olympics and the 1980 Olympics. The rustiness showed as Kenya was only able to earn 1 gold medal and 1 bronze medal from athletics. The other bronze medal came via boxing.
3000m Steeplechase: Julius Korir with a surprise gold medal
Not much was expected from Korir. Though he won the gold medal at the 1982 Commonwealth games, he had finished 7th at the 1983 world athletics championships. The race was competitive. The athlete who was getting most of the publicity was Henry Marsh, who was favoured. He was a vastly experienced and supremely tactical runner. Also in the race was another American Brian Diemer who had beaten Korir at the 1983 NCAA championships. Then there was the Frenchman Joseph Mahmoud who had finished fourth at the 1983 world athletics championships. He ran the fastest time of 1984, clocking 8:07.62 in Brussels.
In a highly tactical race, the lead changed hands multiple times until the last lap when Korir went to the front, closely followed by Marsh who looked poised to make his move. Korir held on until 200m were left. At this time he suddenly accelerated leaving the rest of the field in his wake. No one had answer for Korir's sudden kick. Mahmoud tried to give chase but he did not have enough left in the tank. Marsh staggered at the end and was passed by Diemer who pipped him to take bronze. Korir won in a commanding fashion, finishing at least ten metres ahead of the rest of the field. He clocked 8:11.80 which remained his personal best. It was Kenya's only gold medal at these games.
Race Video
10,000m: Mike Musyoki is promoted to bronze
Prior to these Olympics, Musyoki was mostly known as a road racer. In 1982 he broke the half marathon world record by running 61:36 in Philadelphia. He won "Road Racer of the Year" award in 1983 by Running Times. And before that, he won a silver medal at the 1978 Commonwealth Games behind Henry Rono. He also was the 5000 meters silver medalist. He had also been NCAA champion while running for the University of Texas at El Paso.
In this race was World and European champion Alberto Cova of Italy, and Fernando Mamede who set the world record in this event in 1984. Cova and Marti Vainnio finished well ahead of the field, leaving the rest of the field to compete for bronze. Mike McLeod of Great Britain surged ahead to take bronze. Musyoki fended off a strong challenge from Italian Salvatore Antibo to take fourth position.
After the race, silver medalist Marti Vainio failed an in competition drug test. As a result he was disqualified and Musyoki was promoted to bronze. Blood doping which is the act of withdrawing blood, freezing it and re-injecting it before a race to provide more red blood cells, was legal in those days. The winner Alberto Cova, admitted to blood doping. It turns out Vainnio was busted because the blood he injected to himself was laced with steroids which he had taken several weeks earlier while preparing for the Olympics.
Boxing: Bronze medal for young Ibrahim Bilali
19 year old Ibrahim Bilali continued the then proud Kenyan tradition in boxing by winning a bronze medal.
His results at the 1984 Olympics was as follows:
Round 1: Defeated Patrick Mwamba (Zambia) 3-2
Round 2: Defeated Alvaro Mircado (Colombia) 4-1
Quarter-Final: Defeated Laureeno Ramierz Padila (Domenican Repubic) 5-0
Semi-Final: Lost to Erdzep Erdzepovski (Iugoslavia) 0-5
Ruth Waithera with a unique performance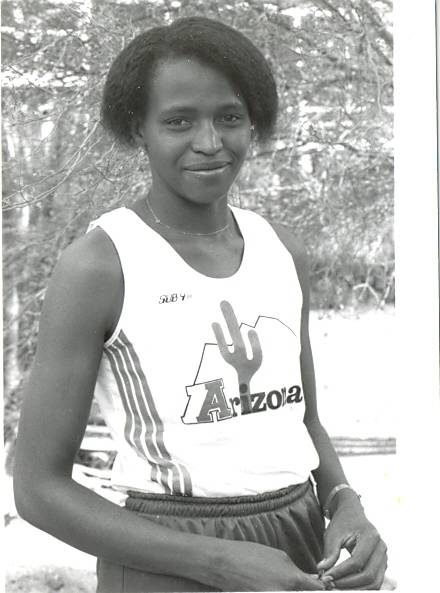 At the 1984 Olympics, Ruth Waithera was the only Kenyan woman to reach the final of any event. She did so by reaching the 400 metres final. To this day she remains the only Kenyan woman ever to reach the final of a sprint event at either the Olympics or the world championships. She finished 8th but in the process set a new Kenya record of 51.56. The record stood for 31 years ! She also reached the semi-finals of the 200 metres.
During this period, she also represented Arizona State University where she was NCAA Indoor champion. She was later voted to the Arizona State University hall of fame. Waithera had also won a bronze medal at the 1979 African championships in the 200 metres.
Other performances
Billy Konchellah and Joseph Chesire both came within a whisker of medals, finishing 4th in the 800m and 1500m respectively. While Paul Kipkoech was 5th in the 5000m. Both Konchellah and Kipkoech built on their performances to win gold medals three years later at the 1987 World championships.