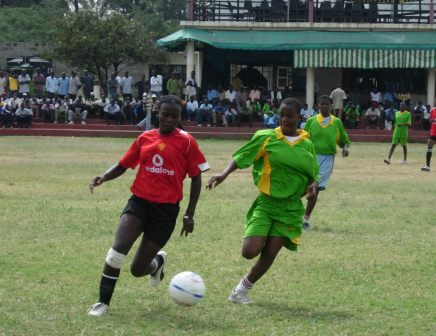 One of the first casualties of the Sam Nyamweya era was the immensely popular Sakata ball tournament that was sponsored by Safaricom. Nyamweya terminated the tournament because Safaricom refused to meet his demand that every football sponsor must deposit 15% of sponsorship with the federation. Naturally Safaricom refused to deposit money with a federation that does not account for any money.
The tournament featured grassroots teams from all 47 counties. Both girls and boys teams participated. It offered the youth opportunities to win prize money. For the 2011 edition, the prize money was Sh500,000 for boys and Sh250,000 for girls. Runners up will clinch Sh300,000 and Sh150,000 for boys and girls respectively.
Even for those who did not win prize money, such a well organized grassroots tournament is a good way of keeping the youth busy in positive and healthy activities and away from crime and drugs. A country with a crime rate as high as Kenya needs this.
The tournament was an excellent way of unearthing grassroots talent. At the end of the tournament, a team 22 boys will form the next group joining the National Talent Academy. Numerous Kenyan internationals have been unearthed at such grassroots tournaments including players like Johana Omollo and Jerry Santos. Sakata ball could play a significant role in unearthing Kenya's next generation of star players.
Let FKF Cooperate with Safaricom
Rather than impose rules on Safaricom as Nyamweya attempted to do, the new FKF regime led by Nick Mwendwa should establish a working relationship with Safaricom. Mwendwa has announced that he wants to identify a group of under 13 players to enable Kenya to qualify for the Under 17 world cup in 2019. The Sakata ball tourney could be the key to identifying the right players by scouring all 47 Kenyan counties for talent.
Another arena for cooperation could be the construction of playing fields at the grassroots. There is currently an epidemic of land grabbing that has seen hundreds of football fields dissappear into the hands of political bigwigs, Safaricom can stem this tide by sponsoring and upgrading local playing fields in the same manner that Jericho sports ground aka Camp Toyoyo has been upgraded with CDF money.