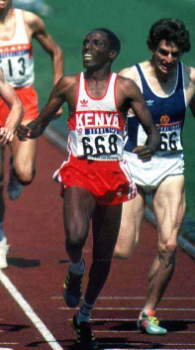 Background
The 1988 Olympics are among the most memorable for Kenyan. In total Kenya ended up with 5 gold medals. Not too many people expected Kenya to excel at these games. They had won only 1 gold medal at the 1984 Olympics.
Of Kenya's gold medals at the 1988 Olympics, perhaps the most dramatic was Peter Rono's win in the 1500m. Though he had won the Kenyan trials, not much was expected from him. He was not among the top 1500m runners in 1988. He had no big race experience. He had never won a medal in a major championships. And at 21, he was the youngest competitor in the field.
In fact Rono's only previous medal was at the 1986 junior championships in which he won silver behind another Kenyan, Wilfred Oanda Kirochi. In 1987 he had actually qualified to go to the world championships but ended up finishingh 11th in the semi-finals.
Rono was based in the USA at the time, representing Mount St Mary's college. That year he was NCAA champion in the indoor 800m and 1500m, plus the outdoor 1500m. Thus he was well known in American running circles but certainly not in Kenyan or global running circles. It is also true that he arrived at the Olympics after a long and gruelling NCAA season which would tire most runners.
In the Olympic finals, he was competing against British legend Steve Cram who had won the world championships gold medal in 1983 as well as Commonwealth games gold medals in 1982 and 1986. He had also won the European championships in 1982 and 1986 plus an Olympic silver medal in 1984. And in that particular year (1988), he had run the fastest times in the 1500m and the mile.
The other highly rated Briton in the race was Peter Elliott, who had won silver in the 1987 world championships and silver at the 1986 Commonwealth games. Then there was Irishman Marcus O'Sullivan, the world indoor champion. Rounding up the big names in the race was East German Jens Peter Herold, one of the greatest milers of the late 1980s.
The other Kenyans who made the finals were highly experienced duo of Kipkoech Cheruiyot and Joseph Chesire. Both had been at the 1984 Olympics with Chesire coming agonizingly close to winning a bronze medal.  He would later win a bronze medal at the 1987 All Africa games behind two other Kenyans, Sisa Kirati and Wilfred Oanda Kirochi.
The Race
Though highly inexperienced, Rono's race plan was a master-class in tactical running. From the beginning, Rono kept glancing sideways to see where his team-mates were as Kenya appeared intent on running a team race. The Kenyans stayed at the back of the pack for the first lap as the two famous Britons stayed close to the front.
Rono made his way to the front of the pack at the 700m mark. He took his place on the inner lane. He would not relinquish his lead for the rest of the race. Elliott moved beside him. Rono kept glancing to his side. Each time a runner tried to take over the lead, Rono was step up his pace and  cover the move. Chesire then tried to pass Rono but Rono held on. With 600m to go, It was Atkinson, the American champion who made an aggressive move but Rono easily fended him off at the bend.
Atkinson was still on Rono's heels at the Bell before he relinquished his chase. With 300m to go, it was Elliott who took up the challenge of passing Rono who kept glancing to his side. The race was heating up with 200m to go with Elliott, Cram and Herold chasing Rono. No one expected Rono to hold his lead against such a world class trio, especially not the announcer.
But Rono kept glancing to his side, shifting up gears and holding off the world famous trio. In the final straight, Rono found a 5th gear which enabled him to fend off the quartet and even widen his lead. In the last 150m, Rono glanced sideways a total of eight times !! But he still had the wherewithal to hold off his world famous challengers.
In the end, the commentator aptly described it as a "Bold piece of front running." Rono's winning time was 3:35.96.
Mysterious Disappearance
Rono never won a major race again. In fact after the Olympics, Kenyans never heard from him again. The 3:35.96 he clocked in the Olympic final would remain his personal best for the rest of his career.
Since he was only 21 when he won OLympic gold, many expected him to dominate for years to come. But it never came to pass.
He however continued to compete in the American collegiate circuit. In 1990, he was was the runner-up at the NCAA Outdoor Championships in the 1,500 meters behind teammate Kipkoech Cheruiyot. He was also second in the mile at the 1990 NCAA Indoor meet.
He won the 1990 NEC Cross Country championship and was named the Most Outstanding Performer at the 1991 NEC Outdoor Track & Field Championships where he won the 800, 1,500 and 5,000 meter races.
He went on to finish third in the NCAA Championships in the 1,500 meters in 1991. He won the 1991 NEC indoor 3,000 meter championships.
Collegiate Burnout
Rono was an 11-time All-American and five-time NEC individual champion. In each collegiate meet, he would run in both the 800m and the 1500m. He would compete indoor and outdoor meets.This at the behest of his collegiate coach. Many collegiate runners who excel at different races are often asked to run in too many races in order to win points for their collegiate teams. In some cases, a topp tier runners is the only one on his team capable of winning races. As such he is asked to carry the team on his shoulders. In many cases they run while injured. The net result is that such runners often burn out due to fatigue and unhealed injuries and end up having very short careers.
It comes as no surprise therefore that Rono's running career was very brief. He never ran again after he left Mount Saint Marys in 1992. And he was only 24 at the time. In fact after his golden performance in 1988, his form gradually declined likely due to being over-raced by his school team.
In 1992, Rono earned a degree in Economics from Mount St Marys. He married Mary Kirui who was a bronze medalist at the 1987 All African games. He currently lives in New Jersey. His son Martin Rono and daughter Irene also became collegiate runners.
Note from legendary coach Brolm O'Connell
Peter  Rono was born in Kapsabet and attended St Paticks Iten where he ran under legendary Irishcoach Brolm O'Connell.
O'Connell trains his less talented team members to be assistant coaches. "Peter Rono was coached largely by a classmate," he says. "He was a small boy and always struggling. He ran the 5,000 when he came, which was O.K., but in 1983, Kip Cheruiyot was selected to run with the national team in Helsinki, and suddenly I had no 1,500-meter runner for the Schools Championships. I went to little Peter Rono and said, 'You're going to be a 1,500 runner. I need you.' "
Rono gave his grave consent. "That was his breakthrough. He won the Schools 1,500 and 5,000 double three times. He's really a 5,000 man. He has no hope in a real sprint, but if everybody's tired, he can maintain his speed."
Thus it was that in Seoul little Peter Rono led the last 800 meters of the Olympic 1,500 final and made everybody tired. In the stretch, with Steve Cram and Peter Elliott of Great Britain straining on his heels, Rono smoothly maintained his lead to the finish. He was the first St. Patrick's boy to win an Olympic gold medal.