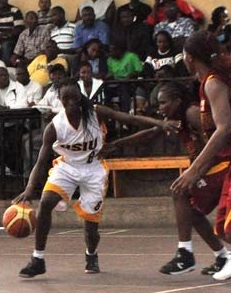 The Kenya women's basketball team emerged the winners of the Africa zone 5 basketball championships. Hilda Indasi was the foundation on which Kenya's foundation was built.
Indasi who plays for USIU Flames in the Kenya basketball league, was the vice Captain of the Kenya team. She was in sensational form scoring in bunches and setting up team-mates. She scored a superb 32 points against former champions Rwanda, 26 points against Burundi and 19 points against Egypt.
The product of Kaimosi girls boarding school has been on a tear ever since she emerged on the national scene. However 2012 was her best season yet. She was voted the most valuable player in Kenya and steered USIU Flames to second position in the league. In 2011 she featured for KPA whom she helped to the national title.
The Industrious Indasi is a tireless workhorse on the basketball, constantly running, probing and driving. At her young age she has a brilliant future ahead of her. If she continues to pursue her goals as tirelessly as she has done so far, she could be the first Kenyan women to go from Kenya to the professional leagues.