When people think of Ezekiel Kemboi, they primarily think about his celebratory gyrations. But mostly he is simply considered the next in a long line of excellent Kenyan steeplechase runners. Thanks to the likes of Kemboi, Kenya has won all the 3000m steeplechase gold medals at the Olympics and world championships since 1984.
However simply thinking of Kemboi as just another good steeplechaser would be a mistake. Kemboi has been one of the greatest and most consistent runners of the new millennium. Kemboi won Olympic gold in 2004 and again in 2012. That is a gap of 8 years. He has been at or near the top of his profession for more than a decade. That kind of consistency is extremely rare in athletics.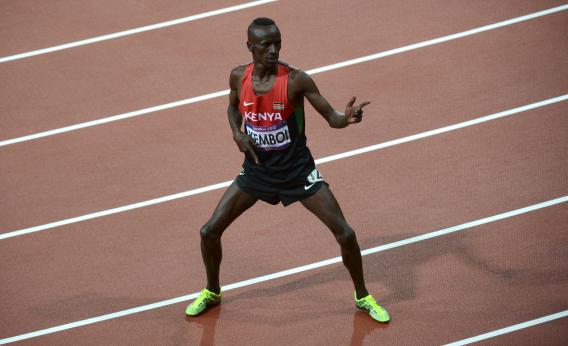 Kemboi was born in Matira, Marakwet district. He attended Kapsowar secondary school. Interestingly he never participated in athletics until he left secondary school. He took the athletics world by storm in his very first event which was the 2001 Africa athletics championships where he won his event despite falling. At the 2002 Commonwealth games he finished second to team-mate Stephen Cherono who later defected to Bahrain and became Saif Shaheen.A year later at the world championships, Kemboi battled Shaheen at the world championships final which Shaheen narrowly won. At the 2003 All Africa games, Kemboi edged compatriot Paul Kipsiele Koech to win gold.
At the 2004 Olympics, Kemboi led a memorable Kenya 1-2-3 finish with Paul Kipsiele and Brimin Kipruto. It was Kenya's only gold medal at those Olympics. So confident was Kemboi that during the race he was urging his team-mates on at the final water jump instead of focusing on the race.  The three would dominate this event for the next decade or so.
However Shaheen was to beat Kemboi to silver yet again at the 2005 world championships. In 2006 , Kemboi succesfully defended his commonwealth games gold medal. He won a 3rd succesive world championship silver medal in 2007, finishing second to compatriot Brimin Kipruto. At the 2008 Olympic games, Kemboi finished a dismal seventh. Many thought at the time that his best years were behind him.
However Kemboi bounced back in style. Prior to the 2009, world athletics championships, he told the Kenyan media that he was tired of winning silver medals after having won three silvers in a row and he was determined to win gold this time. That he did winning the 2009 world championships. He went on to defend his title in the 2011 world championships.
Kemboi was now at the peak of his powers. Not only was he winning in style but he was winning rather easily often crossing clear to the 8th lane before finishing. That is exactly what Kemboi did at the 2012 Olympics. he was so far ahead of the field that before finishing, he crossed over to the 8th lane before engaging in his celebratory gyrations. Kemboi's performance along with David Rudisha's gold medal winning performance were the two bright spots for Kenya at the 2012 Olympics.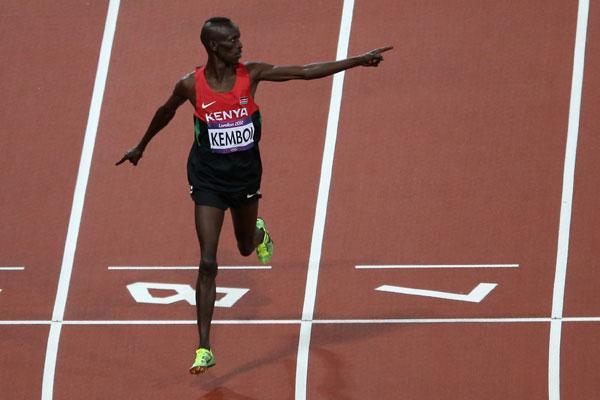 He is the most entertaining of Kenya's athletes. Always interesting and often hillarious at press conferences. And his wild dances have become one of the highlights of major athletics meets.
Kemboi has announced that 2013 will be his last season on the track beforehe becomes a marathoner. He has been winning global events for a period of over a decade. It is this rare longevity that makes him one of the all time greatest athletic performers.
Achievements
Gold Medals : 2012 and 2004 Olympics. 2009 and 2011 World Championships, 2006 Commonwealth games, 2003 All Africa Games, 2001 Africa Junior Championships.
Silver Medals : 2003, 2005, 2007 World Championships, 2002 and 2010 Commonwealth games.
Personal best : 7:55.76 ; The sixth fastest of all time