The Kenya women's basketball team face an arduos task as they compete in the FIBA Afro-basket championships to be held in Mozambique from September 20th. Kenya qualified by virtue of winning the zone 5 qualifiers in grand style beating Egypt and a Rwandan team full of American mercenaries. In the Process, Hilda Indasi was voted as the MVP of the tournament.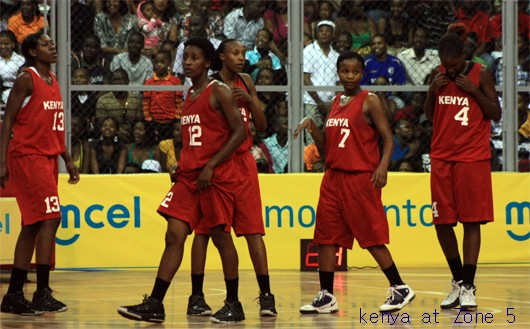 The Kenyan ladies will be hard pressed to do better than they did in 2007 when they last qualified. In that campaign they finished last in their group. Coach Ronnie Owinotold FIBA.com: "Kenya's objective at the ANC (Afrobasket for Women) in Maputo is to have a decent finish. Our dream would be to be in the top 4."
The Kenyan ladies have been placed in group B. The groups are as follows :
GROUP A:
1-Mozambique
2-Senegal
3-Cote d'Ivoire
4-Egypt
5-Zimbabwe
GROUP B:
1-Angola
2-Mali
3-Cameroon
4-Kenya
5-Cape Verde
6-Nigeria
Preparations
Media reports suggest that the team commenced training on Saturday morning at the Railway club under coach Ronny Owino and Sylvia Kamau in preparation for the tournament.
However there has been no reports of any build up matches that the team will play to sharpen their strategies.
Overseas Help
Ronnie Owino had indicated his desire to bring back some of Kenya's overseas based players.
These include  Beatrice Awino Duol, Josephine Owino, Gladys Wanyama, Brenda Adhiambo, Anastacia Njeri, Mildred Olumasi and Rose Ouma.
Awino is a 1.98m( 6'6″)  center who played for Union University. Josephine Owino who was picked 28th overall pick in the 2009 WNBA by the Washington Mystics, but she never played. She joined Cankaya Universitesi in Turkey's TKBL league before she joined Dynamo-NPU Kyiv in Ukraine's UPBL. That was in 2011. It is not clear whether she is still active in basketball.
Brenda Adhiambo Wasuda,  a powerful  6'0″ post player has been playing a prominent role for Seattle University in 2013, averaging 7.6 ppg and 26 minutes of action per game. Adhiambo was a senior which means her college basketball career is finished. It is not known whether she has kept herself active in basketball.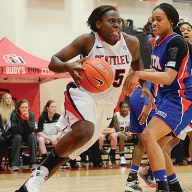 Njeri played for Kenya in the 2009 zone 5 qualifier and was recruited to play Jacksonville College. Her current basketball activities are also a mystery as she is not in the Jacksonville roster.
Mombasa-born Olumasi is a 1.93m (6'3″) center who led Kenya in scoring at the 2008 U18 Afrobasket in Tunisia. She played  for Union University until 2012 when her season ended with an injury. It is not clear whether she is still active in basketball.
Wanyama led Lewis and Clark college in scoring with 15.8 ppg back in 2009. She does not appear to be active in basketball. Rose Ouma averaged 13.9 ppg for Lewis and Clark and is currently based in Dubai.
If Kenya get all these players, Owino says: "then our team will be greatly strengthened and hopefully capable of competing and not just participating."
It cannot be gainsaid that Kenya desperately needs at least some of these players. Currently the tallest player on the Kenya team is 6'2″ Silalei Shani-Owuor. With that lack of size, the Kenyan frontline will be eaten alive. The key is to identify those like Awino Duol who are still actively playing.
However there has been no word from either the KBF or from Owino in regards to whether any of these players will be made available.
This is a glorious opportunity for Kenya women's basketball to put itself into the consciousness of the Kenyan public. We hope that the KBF will not waste this opportunity.