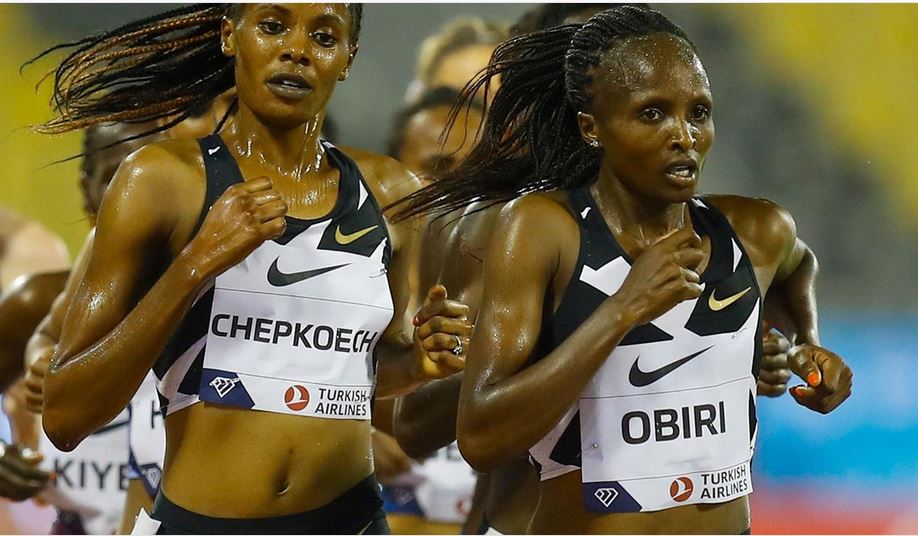 The women's 3000m was an all Kenyan affair as Kenyan women occupied the top 5 positions, relegating giants Gudef Tsegay of Ethiopia and Laura Weightman of Great Britain to 6th and 7th positions respectively.
Hellen Obiri came in as the favourite. After good pacing by Winny Chebet, Obiri took the lead. Beatrice Chepkoech who typically runs in the steeplechase, challenged Obiri in the last lap, taking the lead at the bell and attempting to push the pace in order to break Obiri. But Obiri was unbreakable. She took the lead as she normally does with 300m left with her typical sudden acceleration and did not look back. Chepkoech gave chase using her elegant long strides but could not catch Obiri who won in a world leading time of 8:22.54.
Agnes Tirop, who is a 10,000m specialist, made a late surge to pass Chepkoech at the finish line to take second place. Chepkoech took a creditable third place. Margaret Kipkemboi, who took silver in the 5000m at the 2019 World Championships took fourth place. Hyvin Kiyeng, who surprisingly won the 3000m steeplechase was also way out of her comfort zone and took a creditable 5th place.
With so few distance races available in the Diamond League program and with the 2020 season being shortened due to the Corona Virus pandemic, Kenyan runners have been forced to diversify and get out of their comfort zones and they are excelling.
Race Video
Race Results
Place
Name
Birth Date
Nat.
Mark
1.
Hellen OBIRI
13 DEC 1989
KEN
8:22.54
2.
Agnes Jebet TIROP
23 OCT 1995
KEN
8:22.92
3.
Beatrice CHEPKOECH
06 JUL 1991
KEN
8:22.92
4.
Margaret Chelimo KIPKEMBOI
09 FEB 1993
KEN
8:24.76
5.
Hyvin KIYENG
13 JAN 1992
KEN
8:25.13
6.
Gudaf TSEGAY
23 JAN 1997
ETH
8:25.23
7.
Laura WEIGHTMAN
01 JUL 1991
GBR
8:26.31
8.
Tsehay GEMECHU
12 DEC 1998
ETH
8:33.42
9.
Lemlem HAILU
21 MAY 2001
ETH
8:35.78
10.
Jessica HULL
22 OCT 1996
AUS
8:36.03
11.
Quailyne Jebiwott KIPROP
01 MAY 1999
KEN
8:39.88
12.
Eilish MCCOLGAN
25 NOV 1990
GBR
8:40.88
13.
Beatrice CHEBET
05 MAR 2000
KEN
8:50.40
14.
Melissa COURTNEY-BRYANT
30 AUG 1993
GBR
8:56.11
15.
Genevieve GREGSON
04 AUG 1989
AUS
9:07.40
Winny CHEBET
20 DEC 1990
KEN
DNF