For the 3rd time in history, Kenya swept the New York city marathon, winning both the men's and women's events.
The Leading Pack had no answer for Mutai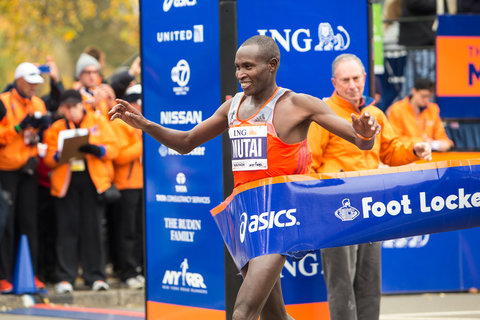 After running with the leading pack for 32km, Mutai surged ahead leaving everyone in his wake. No one could muster a response and Mutai won in 2:08:24 becoming the 6th runner to successfully defend the title. "For me to defend my title, I think it has very many meanings," said Mutai.
Mutai finished almost a whole minute ahead of second placed London marathon winner Tsegay Kebede of Ethiopia. World and Olympic champion, Stephen Kiprotich of Uganda from whom much was expected, finished a distant 12th.
Jeptoo makes an improbable comeback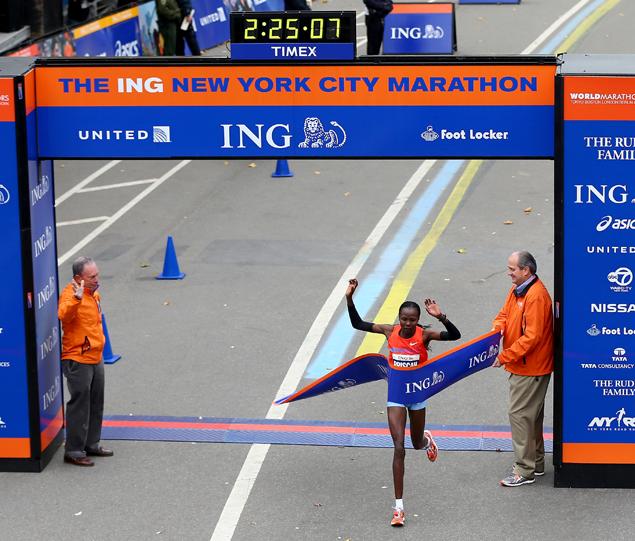 Priscah Jeptoo who recently dusted both Tirunesh Dibaba and Meseret Defar in the BUPA half marathon, showed another Ethiopian (Buzunesh Deba)  a clean pair of heels to win in 2:25.
In the process, Jeptoo became $625,000 richer including the $500,000 she gained for winning the world majors.
Buzenesh Deba and Tigist Tufa of Ethiopia had set a searing pace covering the first 10km in 34:44. At the halfway point of the race, a cyclist told Jeptoo that the two Ethiopians were more than three minutes ahead.
"He came and told me that you are behind three minutes. I realized that three minutes is almost one kilometer, so I started to push the pace," she said. "I knew, and I was having confidence that I will make it."
Jeptoo had to work extra hard to reel in the leading Ethiopian duo kilometre by kilometre. By the 35-kilometer checkpoint, Deba's lead over Jeptoo had dwindled from 3 minutes 23 seconds to 45 seconds.
With 4km left, Jeptoo caught Deba and Tufa. The latter tried to respond but did not have an answer for Jeptoo's kick. It is amazing that Jeptoo is a such a strong runner considering her awkward running style. But she galloped away from the competition to win in 2:25:07.
Top Results