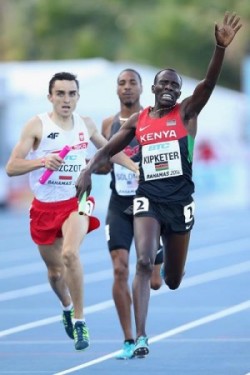 The second world relay championships will be held in the Bahamas on May 2 and 3. The inaugural championships were also held in the Bahamas in 2014 and the Kenyan team was sensational, setting several records and finishing second overall.
In 2015, Kenya will be sending a much weaker side. To begin with David Rudisha, who is still Kenya's top 800m runner opted out in order to focus in winning the world championships. This is a good move by Rudisha. He needs the rest since he has been injury plagued since 2013.
Asbel Kiprop, Kenya's top miler also opted out. He had been selected to run the 1200m leg in the medley relay. Rumours suggest that Kiprop's withdrawal is in solidarity with his agent who has been banned by Athletics Kenya. Kiprop has vehemently denied those rumours and has said he is injured.
Up and coming Ronald Kwemoi, who had been selected to run the 1600m leg in the medley relay also bailed out of the team and he too is rumoured to have quit in solidarity with his agent. Kwemoi did not give any reason for his late withdrawal.
Eunice Sum, the defending world and commonwealth games champion who has dominated the 800m globally since 2013 has also opted out as has Janeth Jepkosgei
Too much dominance by Kenya shelves the 4 X 1500m
Kenya were so dominant that they finished at least 100m ahead of the second place finishers in both the men and women's races. By the last lap, the only mystery was whether they would break the world record or not. The thorough and utter dominance by Kenya was the likely catalyst in IAAF deciding to shelve the 4 X 1500m race and replace it with the medley relay.
All the members of both the men and women's teams from last year have opted out. Faith Kibiegon and Hellen Obiri and Mercy Cherono who were part of the record setting 4 X 1500m team from 2014 did not participate in the trials. Silas Kiplagat who ran a storming 3:32 leg in 2014 is also out along with the aforementioned Kwemoi and Kiprop.
Despite the withdrawal, Ferguson Rotich, who will run in the medley relay is upbeat.
"I'm glad to go to Bahamas once again. We have good team that the country can rely on. We have gelled well and hope to achieve good results. We are not affected by the withdrawal of some members of the team," said Rotich
The Kenya 4 X 200m which finished in a respectable 5th position last year is once again buoyed by the inclusion of USA based Carvin Nkanata who recently set a new Kenya 200m record with a time of 20.14.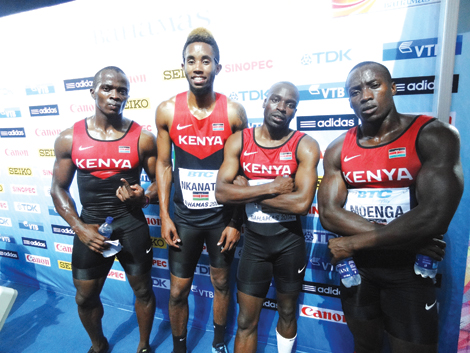 Timothy Kitum won a bronze medal at the 2012 Olympics at the young age if 17. But he has been missing in action since then. He is slowly climbing his way back to relevance and has made the 4X800m team.
The medley relay has legs of 400m, 800m, 1200m and 1600m. It will replace the 4 X 1500m races which Kenya thoroughly dominated last year. Francisca Koki who won a bronze medal in the 400m hurdles at the 2014 Africa championships will lead off Kenya's womens team which is highly inexperienced and full of relatively unknown runners. They will be hard pressed to come close to emulating the strong performance of the 4 X 1500m team last season.
The men and women's medley team will certainly be among the favourites with a good chance to win. The men's 4 X 800m team start as favourites while the women's 4 X 800m team will likely battle for second place behind the USA which is once again sending a very strong team. The USA won the gold medal in 2014 and is sending basically the same runners.
Twenty year old Alfas Kishoyian will lead off the men's medley team. Kishoyian showed a lot of promise as a junior. In 2011, as a 17 year old, he won the silver medal at the world youth championships. He has yet to fulfill that promise. His personal best in the one lap event is 45.64.
The men's 4X400m team is vastly inexperienced and will badly miss Boniface Tumuti who won a bronze medal at the 2014 African championships and was part of the gold medal winning team Africa at the athletics world cup.
Squad
Men: 4X200m: Geoffrey Kiprotich, Pius Muia, Michael Mokamba, Collins Omae, Mark Otieno
4x400m: Alfas Keshoyan, Alex Sampao, Boniface Mweresa, Michael Makan, Raymond Kibet
4x800m: Alfred Kipketer, Jeremiah Mutai, Timothy Kiptum, Bernard Kipyegon
Medley: Ferguson Rotich, Abednego Chesebe, Joseph Porghisio and Timothy Cheruiyot
Women 4x800m: Annet Mwanzi, Sheila Chesang, Eglay Nalianya, Sylvia Cherop, Purity Cherotich
Medley: Selah Jepleting, Sylvia Chesebe, Virginia Nyambura, Joyce Zachary, Francisca Koki.
Coaches: Sammy Rono, Stephen Mwaniki, Rose Muya.