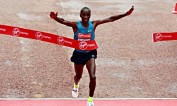 The 2015 London Marathon is perhaps the strongest marathon field ever assembled. Present in the race were current world record holder Dennis Kimetto, the previous world record holder Wilson Kipsang and of course Eliud Kipchoge who has won a number of high profile city marathons. Billed as the 'Clash of the Champions', it featured the greatest men's field ever assembled, with five of the world's all-time top 10 and eight men who have run faster than 2:05.
Most expected Kimetto or Kipsang to emerge victorious. But it was Kipchoge who not only won but destroyed the field.
He had built up a big enough lead to allow him to celebrate as he came down The Mall, pointing to the crowds lining the roads and clenching his fist in triumph before adding the London title to the marathons in Rotterdam and Chicago he won last year.
"It was a tough race," said Kipchoge. "My training paid off and it went to plan. The crowd were wonderful and lifted me for my sprint finish."
The early leading group featured seven top Kenyan runners – Kipchoge, Kipsang, Kimetto, Stanley Biwott, Geoffrey Mutai, Emmanuel Mutai and Samuel Kitwara – along with the Ethiopians Tsegaye Mekonnen and Tilahun Regassa, and Eritrea's Samuel Tsegay.
But the break-neck pace started to take its toll. Geoffrey Mutai who won the New York marathon in 2011 dropped off the pace at the 15km mark. Kitwara fell off the pace at the 35km mark. At this point Kipsang and Kipchoge made their move and Kimetto was unable to stay on pace.
Kipchoge made his move at the 40km mark with Kipsang right on his heels. But it was Kipchoge who had another gear and opened up a gap
Shades of 2003
Kipchoge's win was reminiscent of 2003 when he beat yet another strong field. That time it was the world championships 5000m. The 18 year old Kipchoge shocked everyone when he beat the field that included Hicham El Guerrouj and Kenenisa Bekele.
Kipchoge's Marathon record this far
2013 Hamburg Marathon 1st 2:05:30
2013 Berlin Marathon 2nd 2:04:05
2014 Rotterdam Marathon 1st 2:05:00
2014 Chicago Marathon 1st 2:04:11
2015 London Marathon 1st 2:04:42