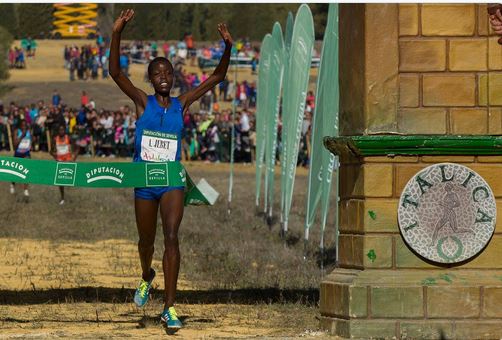 Kenyan women occupied all the top three positions at the 36th Cross Internacional de Itálica in Santiponce, near the Spanish city of Seville. This race is the fifth leg of this season's IAAF Cross Country Permit series.
The early pace was set by Kenyan defector to Bahrain Ruth Jebet. Tirop, the 2015 world cross country champion, took over the lead soon after the 5km mark. She was followed by Hellen Obiri, the defending world 5000m champion. Tirop continued to push hard and soon dropped Obiri. Rengeruk charged ahead towards the end of the race and caught up with Obiri, passing her in the last 20 metres.
Obiri's performance in this 8.2km race nevertheless bodes well for her chances at dominating the 5000m track race this season.
Tirop who is 22 years old, will be looking to add more medals to her shelf this season as she participates in the Commonwealth games. She has already won a gold medal in the world cross championships and a bronze medal at the 2017 world athletics championships.
Results
1 Agnes Tirop (KEN) 25:51
2 Lillian Rengeruk (KEN) 26:01
3 Helen Obiri (POR) 26:03
4 Ruth Jebet (BRN) 26:12
5 Trihas Gebre (ESP) 27:08
6 Nuria Lugueros (ESP) 27:14
7 Muriel Coneo (COL) 27:19
8 Verity Ockenden (GBR) 27:21
9 Carla Salomé Rocha (POR) 27:26
10 Inés Monteiro (POR) 27:38