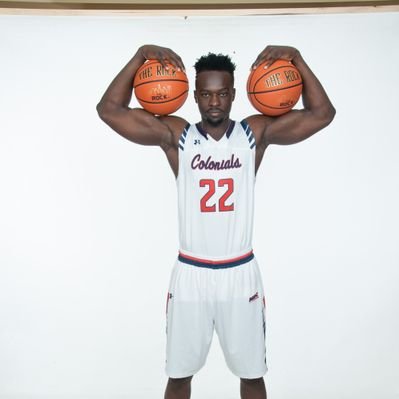 Former Strathmore University and Maseno secondary school basketball star Ronald Gombe Gundo is now playing at Robert Morris University (RMU). Popularly known as the colonials, RMU competes in the Northeast Conference within NCAA division one and is based in a suburb of Pittsburgh.
Gundo has not only carved a niche at RMU, but is regularly in the starting lineup. The NCAA season is now past the halfway mark. With 21 games played, Gundo has appeared in 17 games and has been in the starting lineup in 9 games. He is currently averaging 4.2 points per game. He leads his team in field goal percentage at 48.6%. His best scoring game thus far was against North Carolina State where he scored 11 points.
But it is his shot blocking prowess that has caught attention. He leads his team with a total of 15 blocks this season which is amazing considering that he plays 15 minutes per game. Aside shot blocking, Gundo uses his physicality to protect the rim by making the correct rotation.
"He's playing with energy, he kept the tempo offensively, he used his size and strength to not necessarily block shots, but be in the right spots and coming to help," Toole said. "Those are some of the things he's been learning since he joined our team at the end of August." said coach Toole to the Pittsburgh Post Gazzette.
This season Gundo is the only Kenyan playing NCAA division one basketball. As a graduate student in a team full of freshmen, Gundo is seen as one of the team leaders.
"He has a different maturity level than a lot of our guys, one, because he's older," Robert Morris coach Andy Toole said. "There's some more appreciation that comes with his story than some other guys because he didn't grow up in this marketing culture. All those things are a little bit different. He's been great to have around. He takes his stuff seriously and he's focused on what he wants to accomplish, not only in basketball but in school. He's a good guy to coach, for sure." said coach Toole.
Background.
Gundo first rose to fame in 2010, when he led basketball giants, Maseno School team to win the National Secondary Schools games. He was voted the tournament's MVP. His raw athleticism, his ability to get to the basket and finish with thunderous dunks and his rebounding earned his rave reviews and an a chance to attend the 'Basketball Without Borders' clinic that was held in Dakar later in 2010. There he and other top African youngstars learned the game from NBA players like Dikembe Mutombo, Dwight Howard and Ronny Turiaf. He soon found his way to the national team and also a scholarship at Strathmore University. While at Strathmore, he established himself as one of the best players in the Kenyan basketball scene
Gundo left Strathmore University in 2011 to pursue a scholarship opportunity. He first played at Valley Forge Military institute during the 2013-2014 season, his freshman season. He averaged an incredible 23 points, 14 rebounds and six blocks per game in 2013-14.
For his sophomore season, he transferred to Canisius University. But here his career stalled. In the 2015-2016 season, he appeared in 13 games, scoring only one basket. In the 2016-2017 season, he played in only one game, missing the rest of the season with an injury.
While at Canisius, he earned a degree in Accounting. Student-athletes who earn a bachelor's degree prior to the end of their athletics eligibility may go on to compete as graduate students for another school provided they meet certain criteria or obtain an NCAA waiver.
Since Gundo had one season of eligibility left, he transferred to RMU where his skill-set is more valued. This is his final season playing college ball. He was recruited by RMU assistant coach Mike Iuzzolino, who was an assistant at Canisius during Gombe's first season there.