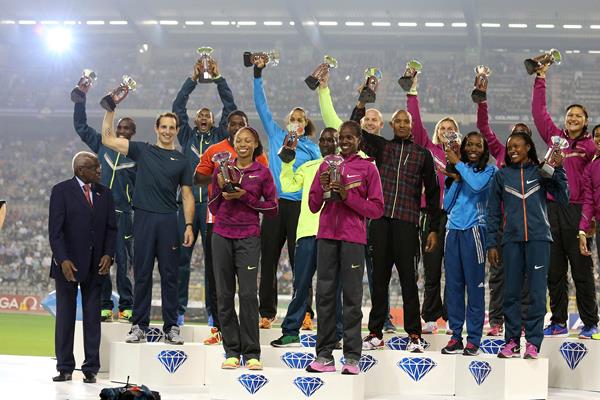 The 2014 Diamond league ended during the week of September 6 in Brussels. Five Kenyans were among the overall winners having gathered enough points to win their respective categories. The win comes with a bonus prize of $40,0000.
Silas Kiplagat
He has been in the shadow of Asbel Kiprop for the past four years. But this year he emerged from thatr shadow to upstage Kiprop who has been erratic this year. Perhaps Kiprop is still suffering from the after-effects of being arrested for getting in a bar fight during the pre-season.
However Kiplagat was far from dominant. He would race really well in one race to win in grand style then finish 5th in the next. Kiplagat did however run the fastest time of the season at 3:27.64. The top 3 fastest times of the year were recorded by Kenyans including Asbel Kiprop and newcomer Ronald Kwemoi.
Caleb Ndiku
Ndiku was a refreshing revelation on 2014. This race had been dominated by the Ethiopians in 2013. Ndiku however upstaged them. Ndiku is far more consistent than his compatriot Edwin Soi has won several races but suffers from inconsistency. Ndiku capped a glorious year by winning gold at the commonwealth games.
Jairus Birech
Jairus Birech dominated the 3000m steeplechase throughout the year in a manner that no one else dominated any other race. Not only did he win every single diamond league race, but he won them by huge margins, in many case by as much as 50 metres. The only loss he suffered came in the commonwealth games when compatriot Jonathan Muia Ndiku surprised him by creating a huge unassailable lead.
Birech is a worthy heir to the legendary Ezekiel Kemboi who hardly raced in the diamond league this season and may be on the way to retirement. Nevertheless Kemboi has established himself as a legend and perhaps the most consistent steeplechaser Kenya has ever produced.
One dissapointing aspect of this race is the sudden fall in performance of youngstar Conselus Kipruto who ran very well in 2013 at age 19 and on several occasions came close to beating Kemboi.
 Eunice Sum
Sum had been in imperious form ever since she won the world championships in 2013. And she started the season with a bang, winning her first three diamond league races. However she started to run out of steam as the season progressed. She will need to work on her strength. In fairness to her, she did participate in the commonwealth games and the African championships, both of which she won gold.
Mercy Cherono
She was perhaps the revelation of the season both on and off the track. The radiant Cherono won an event in which the Ethiopians are typically difficult to beat. And she capped off her performance with a gold medal at the commonwealth games. Cherono was also sensational over the shorter 3000m distance.
Complete list of 2014 Diamond League winners
MEN
100m – Justin Gatlin (USA)
200m – Alonso Edward (PAN)
400m – LaShawn Merritt (USA)
800m – Nijel Amos (BOT)
1500m – Silas Kiplagat (KEN)
5000m – Caleb Ndiku (KEN)
3000m steeplechase – Jairus Birech (KEN)
110m hurdles – Pascal Martinot-Lagarde (FRA)
400m hurdles – Michael Tinsley (USA)
High jump – Mutaz Essa Barshim (QAT)
Pole vault – Renaud Lavillenie (FRA)
Long jump – Godfrey Mokoena (RSA)
Triple jump – Christian Taylor (USA)
Shot put – Reese Hoffa (USA)
Discus – Piotr Malachowski (POL)
Javelin – Thomas Rohler (GER)
WOMEN
100m – Veronica Campbell-Brown (JAM)
200m – Allyson Felix (USA)
400m – Novlene Williams-Mills (JAM)
800m – Eunice Sum (KEN)
1500m – Jenny Simpson (USA)
5000m – Mercy Cherono (KEN)
3000m steeplechase – Hiwot Ayalew (ETH)
100m hurdles – Dawn Harper-Nelson (USA)
400m hurdles – Kaliese Spencer (JAM)
High jump – Mariya Kuchina (RUS)
Pole vault – Fabiana Murer (BRA)
Long jump – Tianna Bartoletta (USA)
Triple jump – Caterine Ibarguen (COL)
Shot put – Valerie Adams (NZL)
Discus – Sandra Perkovic (CRO)
Javelin – Barbora Spotakova (CZE)