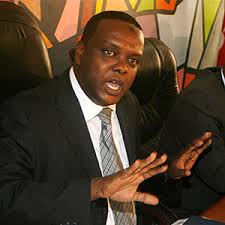 On August 3, Kenya's national team Harambee Stars suffered a devastating loss to minnows Lesotho. Devastating because the Harambee stars because they had an excellent chance of qualifying for the 2015 Africa Nations cup, something they had not done since 2004. The public had high expectations as evidenced by the large crowd that attended the match.
In the aftermath of the match , Hassan Wario, the minister in charge of sports promised long suffering Kenyan fans swift action. Some Kenyans even thought the government would dissolve the FKF, something many Kenyans would welcome.
"The Government will stop "at nothing" in its quest to improve the standards of football in Kenya from how it is run in the office and played on the pitch." said Wario
Wario also reiterated his earlier announcement that his Ministry is on course to release a comprehensive statement on the way forward for the sport of football "within the next week".
"We are disappointed with the current standards and especially Harambee Stars' recent performance. It is time to re-look at that sport in detail and if something is wrong, we will stop at nothing to correct it," Wario said on TV.
We emphasize the promise to make a statement in one week because it has now been one month and Wario has done nothing. This unfortunately has been typical of his tenure as sports minister.
Endless humiliations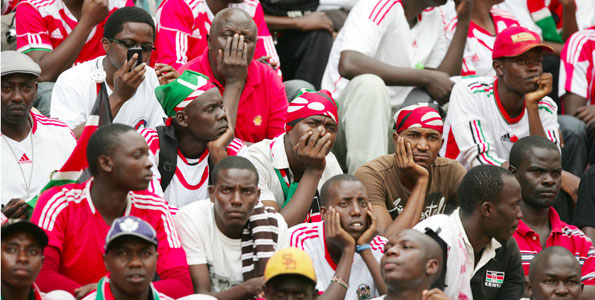 Meanwhile Kenyan fans and players continue to suffer under the incompetence of the FKF. Kenya was presented with what is probably the best chance they have been given to qualify for the AFCON. Nyamweya and his team should have taken the opportunity with both hands and ensured adequate preparations for the team including quality friendlies and maybe even training camps overseas. No such thing happened. In fact Kenya's preparations were shambolic as described by CECAFA chairman Nicholas Musonye.
"It is a disaster for Kenya to be out of top-flight international football until 2017. But their preparations for Lesotho were shambolic, a total joke and it was no wonder we are out, he lamented. "
There was the aborted friendly with Sudan which was cancelled at the last minute after the players had travelled to Khartoum.
Nyamweya has blamed the lack of funds for his failure to run the national team adequately.
"The government should allocate and set aside finances for the national team like in other countries," the controversial boss criticized, " it should actually be included in the budget because it takes 100 million Kenya shillings to run the national team annually which is very expensive."
However it must be said that if Nyamweya is incapable of raising funds for the national team, then he should do the honorable thing, step aside and let someone who can get more sponsorship run the federation. In fact it is likely that sponsors will come on board if the federation was run by a person who is seen as more trustworthy.
But the loss to Lesotho is not the only embarrassment that Nyamweya has subjected  Kenyans to. Remember Kenya was also humiliated by Burundi at the 2013 CHAN. Kenya has withdrawn from virtually every youth tournament and youth development is basically in-existent.
There was the embarrassing scenes at the CECAFA senior challenge cup where teams were locked in their rooms for non-payment of bills. Some like Zanzibar vowed never to play in Kenya again. There was the debacle with French coach Henri Michel who was also thrown out of his hotel due to non-payment.
How much longer will Kenyans wait before Minister Wario comes through on his promise of doing something to bring and end to the constant barrage of humiliations that Kenya football fans suffer ?