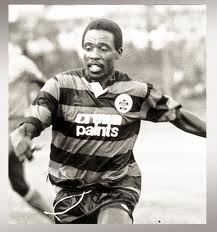 Only the very best most exceptional players typically get nicknames that stick. They are especially given to long serving players or to players who already had a solid reputation before they joined the team. In its almost 50 years of existence, AFC Leopards Football club has seen its fair share of nicknames.
In some cases, a players performance on the field is what earns him a nickname. Legendary goalkeeper Mahmoud Abbas was called "Kenya One" because during his heyday, he was undisputedly the best goalkeeper in Kenya. To this day he is still considered the best ever at his position. Team-mate Josephat Murila was dubbed "controller" due to the way he controlled the backline with such authority. Mickey Weche was nicked "T9" for his robust tackles. T9 is a wild dog which in rural areas is often responsible for biting people. Joe Masiga was nicknamed "Bulldozer" because he used his sheer physical strength to outmuscle defenders.
In some cases, players arrived at AFC Leopards with ready made nicknames. John Lukoye was nicknamed "Shoto" during his primary school days whence he attended Government Road primary school, now known as Moi Avenue primary. The nickname arose because he was left footed. Peter Owade was also named "Zimbo" by the time he arrived at AFC Leopards from Kakamega high school.
In some cases, a player was nicknamed after a famous player. Such was the case with legendary attacking midfielder Wilberforce Mulamba who was dubbed "Maradona" because his dribbling skills were akin to those of Diego Maradona who was then the best player in the world.
In some cases the origin of a player's nickname is unknown. Such is the case with John Arieno "Papa".
When John Okello "Zangi" was expelled from Gor Mahia, he joined AFC Leopards and was dubbed "Wanyoyi" to reference the fact that he was now an honorary Luhya. Similarly coach Jan Koops was nicknamed "Wepukhulu" in 2012.
Nowadays it is rather difficult for an AFC Leopards player to earn a nickname due to the fact that players do not often stay at the club often. And like their counterparts at Gor Mahia, nicknames usually come when the club is succesful. This aspect has been missing from the club in a long time.