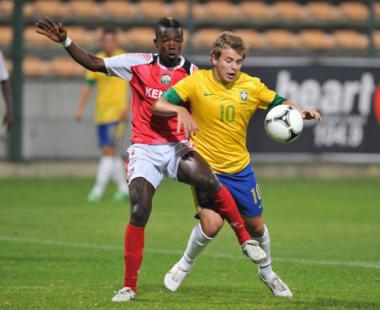 The Kenya national under 20 team was unceremoniously bundled from the Eight nations invitational tournament for players under 20 years of age. The tournament was held in South Africa. Kenya had been invited as a replacement for Egypt who withdrew.
Kenya lost all their matches without scoring a goal, going down 0-3 to Japan, 0-4 to Brazil and 0-2 to Cameroon. A comprehensive thrashing that exposed the gap between Kenya and countries that have well run youth development schemes.
So what went wrong ?
Player selection by tryouts
The Kenyan officials such as Patrick Naggi were proud of the fact that the team was selected via comprehensive tryouts held in counties all over Kenya. This is quite frankly laughable. To begin with, tryouts are a lousy way to select players at this level. Tryouts can never simulate real game situations. To select the best players , you have to observe them play in several games over a season. Selecting players by watching them play during school tournaments is a much better way. Watching them play at club level is an even better way. But selecting players after watching them during a tryout that lasts maybe 1 hour does not make the slightest sense.
Poor Youth development structures.
Countries like Japan have highly developed player development structures starting with players as young as 7. These player development centers are located all over Japan. Those players who show potential are kept in the system through U-10, U-13, U-16 and U-19 levels. The best players are kept together such that by the time they are 19, they have been playing together for as much as 5 years. This builds cohesion amongst players which is critical in any team sport.
More important than cohesion, exposing uyoung players to qualified youth coaches helps them master critical ball skills at a young age. This point is well understood by Kenyan football officials but they have never done anything about it. So there is no need to belabor the point here.
Short Sighted clubs
At top clubs like Barcelona, the nucleus of the team is built via youth development. Players like Fabregas, Messi, Villa, Piquet and even Samuel Etoo are products of Barcelona's youth system. They are steeped in the Barcelona way of playing and have exemplary technical skills. The top clubs of Kenya instead focus on spending ridiculous amounts of money on spending sprees to buy established players. In some cases a player is signed based on his performance in only one game.
The result is that Kenya players have very poor skill levels. They have very bad footballing habits that are difficult to get rid of once a player is in his twenties.
The KPL mandated that each team must have a U-19 team. However there is a huge difference between having a U-19 team and having structured youth development. What KPL teams do is quickly throw together a group of players, many of whom are not even under 19 and ask them to go and play. There is no qualified coach to impart critical skills and monitor players progress.