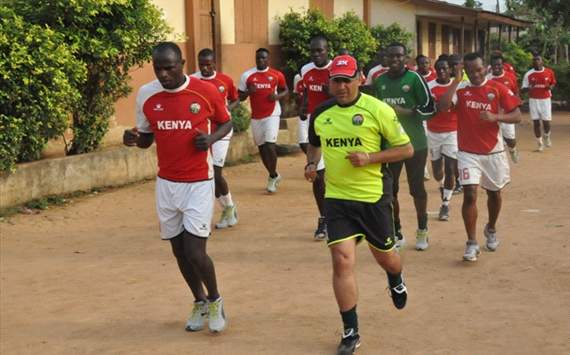 Harambee stars Fans read with dismay the news this week that top striker Dennis Oliech has been dropped from the team to meet Comoros in the return leg of the 2015 AFCON qualifiers. And he was not dropped because of injuries or sickness or due to personal commitments. He was dropped because he absconded training for a week without informing the technical bench of his whereabouts.
This is not the first time Oliech has incurred the anger of coach Adel Amrouche. In June of 2013, Amrouche replaced Oliech as captain for what he claimed was Oliech's lack of commitment. Oliech had shown up late for training.
The last time Oliech featured in the Africa cup of nations was in 2004 which is also the last time Kenya played in that tournament. All the subsequent attempts to qualify gave been foiled by a lack of stability in the technical bench, tough opponents and gross incompetence at the FKF. It goes without saying that Kenya finds it very difficult to qualify for the AFCON.
Legacy
This year there is an element of stability in the technical bench. And Kenya has been handed what looks like a manageable draw. What is needed now is an element of commitment from the FKF to organize appropriate friendlies, the government and corporate sector to offer financial support and the players to stay committed.
If all this falls into place, Kenya will qualify for the first time in 10 years. And after this it could be another 10 years before Kenya qualifies again. It therefore becomes apparent that this could be Oliech's last chance to stamp his name in the records of African football. His last chance to gain fame and recognition throughout the continent.
And more importantly it could be his last chance to leave a legacy. If Kenya qualifies for the tournament and reaches the quarter finals. this group of players will have written their names in the history books of Kenya football ion bold type.
It is also true that if Kenya fails to qualify, a post-mortem will be done and some will point fingers at Oliech for failing to show commitment. It could very well mark the last time he plays for the national team. Coach Amrouche was given a 5 year iron-clad contract. It is unlikely he will be fired anytime soon. He could very well decline to call Oliech for future assignments.
Oliech therefore needs to ask himself what legacy he wants to leave. Does he want to be remembered in heroic terms or does he want to leave on a sour note.
No longer indispensable ?
Oliech should also come to terms with the fact that he is no longer indispensable. When Antoine Hey dropped him from the national team in 2009, the outcry from fans, politicians and KFF officials forced Hey out and Oliech back in. Given that Oliech has not been a dependable scorer of late, there likely will be no outcry this time around if he is dropped. And the reaction in the blogosphere and in social media has made it apparent that fans no longer see Oliech as indispensable.
The fact that many fans think the team can do without Oliech is precisely what should inspire ans fire up Oliech. It should inspire him to work hard, work his way back into the team and back into the good graces of Amrouche and Kenya fans. Even more important is that as a senior player, he should be setting a good example for the upcoming generation.
Commitment from players
So far all the players appear committed to the cause, Oliech being the exception.Keeper Arnold  Origi has said that their sole aim is to go to Morocco in 2015 "Our dream is to qualify for AFCON, but it's still along way ahead we have to take one match at a time, for now we are focusing on Comoros hope we do our best and progress to the next round," said Origi.
Victor Wanyama and Johana Omollo have called for more friendlies to enable the team to build cohesion. "Our focus now is to build on this victory and also hope that the federation will organize more friendly matches to help us build a competitive side," Wanyama said.
National team players usually have only a few days to work together and gain cohesion. It is for this reason above all that Oliech needs to take Harambee stars training sessions more seriously.