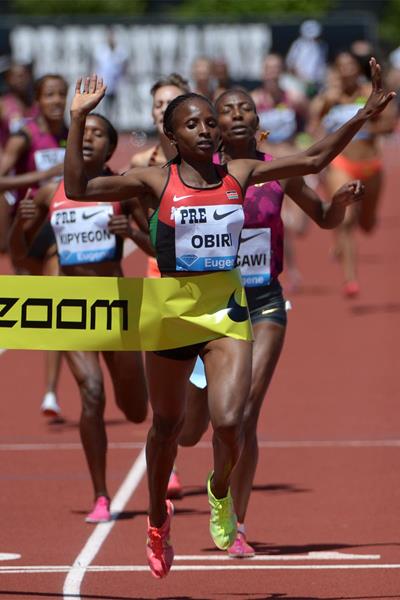 Fresh from her record breaking performance at the world relay championships, Hellen Obiri did not loose a step as she shocked Abeba Aregawi of Sweden to win the women's 1500m at the Prefontaine classic held in Eugene Oregon on May 31.
The win over Aregawi is big news since the former Ethiopian, now representing Sweden has dominated this event for the last 2 years, having won the world championships in 2013 with Obiri finishing 3rd. Aregawi had not lost a 1500m race since August 2012.
Obiri has been on a tear of late. In early May she ran the fastest 3000m run since the early 1990s when Wang Junxia set the world record. In the process she set an African record of 8:20.68. Shen then anchored Kenya's 4x1500m to a world-record victory in 16:33.58 on 24 May at the IAAF World Relays in The Bahamas. Fatigue was thus a factor but she did not let it get in the way.
"My body was feeling tired when I was in The Bahamas because I had to work hard there just so we could break the world record," Obiri said. "Coming into this race, my coach and my manager told me not to push because the pace was going to be a hard 2:06. I tried to follow Aregawi because I knew she was a runner who is in good shape, and Jenny Simpson was there in the front. I knew I had a strong kick so I stayed there until 200 meters to go."
She stayed behind 2011 world champion Jenny Simpson and reigning world champion Abeba Aregawi of Sweden for most of the race. When pacemaker Phoebe Wright stepped off, leaving Simpson to do the work out front, Obiri bided her time before blasting into the lead around the final bend. Aregawi chased her to no avail.
Faith Kipyegon , also a member of the glorious relay team in Bahamas, was third in 3:58.01.
In the men's 5000m, Caleb Ndiku held off Yenev Alamirew on the home straight to win the mens' 5,000 in 13:01.71. Edwin Soi finished 3rd.
In the women's two mile race, Mercy Cherono won in 9:13.27 with Viola Kibiwott coming a close second in 9:13.48
Rudisha Returns
David Rudisha finished 7th in the men's 800m. The race was won by Nijel Amos of Botswana. Amos himself is returning to form after missing most of the 2013 season supposedly trying to become a disco DJ. Amos had won the silver medal at the 2012 Olympics behind Rudisha. Mohamed Aman of Ethiopia was second while Abubakar Kaki of Sudan was 3rd. Kaki too missed most of the 2013 season via injury.
Rudisha started well.  His form was good in the opening 400m, as he followed right behind the pacemaker through the halfway point in 49.82. He ran well up to the 700m mark when he ran out of gas.
"I need to sharpen up to get competition-ready. The body needs competition to build that speed. I was tiring over the last 100 metres. I'll go back and see how I can build up so I can finish next time. But to be out for so long, I am satisfied with my time of 1:44."