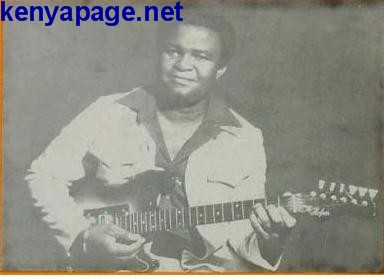 Habel Kifoto was for over 40 years, one of the most prominent personalities in the Kenya music scene. As Band leader of the Kenya military band, the Maroon Commandos, Kifoto humanized and even softened the perception of the military with a series of well arranged and melodious songs. And with its privileged position as a military band, the Maroon Commandos songs enjoyed the privilege of being featured often the state broadcaster, the Kenya broadcasting corporation especially in the 1980s. For many Kenyans of that era, many of their songs became entrenched in the minds.
Most notable amongst these songs was the mega hit Charonyi ni Wasi which was composed by Kifoto and which literally means "life is hard" in Kifoto's native Taita language.
Habel Kifoto Kifoto was a versatile musician, singing lead and backup vocals, playing the keyboard, saxophone, rythm and solo guitars. He founded the Maroon Commandos on October 1970 at the 5th Kenya Rifles, Gilgil Barracks, also known as the "fighting five". The band later relocated to the Langata barracks in the mid seventies. In 1972, after signing with Polydor records, the Maroon Commandos released their first album, "Emily".
In its early days, Maroon Commandos primarily played at presidential functions. But in 1977 the hit Charonyi ni Wasi firmly put them on the music map. The song featured a harmonious chorus punctuated by excellent saxophones played by David Kibe. The song was about the difficulties of life experienced by village dwellers when they move to the big city. It started out with Kifoto greeting his fellow village mates back home and telling them he was in good health and promising too write them a letter soon. The second session explains how life in the city is costly. Water costs money, Flour costs money, vegetables cost money, life is difficult says Kifoto as Kibe's saxophone provided the thunderous refrain.
The Maroon Commandos patterned their music to those of big bands especially the legendary Tanzanian Mbaraka Mwineshe and Zairean groups. "From the experience of listening to the Congolese and Tanzanians in the early days, we developed a style of rhumba which made use of the rhythm guitar and drums," says Kibe.
In 1987 Kenya hosted the 4th All Africa games. It remains to date the biggest event sporting or non-sporting that Kenya has ever hosted. Many Kenyans of that generation remember it fondly. Kifoto composed what was to become the unofficial "anthem" of those games. The song called "Welcome Karibu", extended a welcoming hands to visitors, competitors, journalists and others coming to Kenya to watch the games.
After Charonyi Wasi, the most memorable song by the Maroon Commandos was yet another composition of Kifoto called Uvivu ni Mbaya. The Kenya broadcasting corporation and its predecessor, the Voice of Kenya played it every morning as a wake up call to Kenyans.
In 2000, famous reggae singer, Jah Key Malle, performed a rendition of Charonyi Wasi played to reggae beats. In 2007, after a nearly 10 year recording gap, Maroon Commandos released an album called "Shika Kamba". The song "Kenya Unite" was written in response to the post election violence of 2007.
By 2009, Habel Kifoto had retired from the Kenya army and left band leadership to Diwani Nzaro. He was later replaced by David Kombo.
Kifoto passed away on 31st July 2011 in Nairobi of a heart attack