Today the mention of the Kenya boxing team does not capture the imagination of anyone. Whenever the Kenyan boxing team participates in any tournament, be it the All African games or the commonwealth games, one can expect perhaps a bronze medal or two if Kenya is lucky.
There was a time however when the mention of the Kenya boxing team would send shivers down the spines of other countries and sheer raptures to Kenyan boxing fans and in fact Kenyans in general. The Kenyan boxing team, aka the hit squad was a source of pride.
No moment captured this glorious era more than the 4th All African games of 1987. Keep in mind that in those days, the All Africa games was a premier event to which the entire continent of Africa paid attention. And when Kenya hosted this event in 1987, the entire country was engrossed. Kenya sent 8 boxers into the boxing finals held at the Kenyatta international conference centre. That day the hit squad put on an exhilarating performance of power punching, quick feet, stylish moves and accurate punching that overwhelmed all the opponents. All 8 memebers of the hits squad. won their matches thus netting 8 gold medals as the partisan local crowd went into a near delirium. Even cabinet minister, Robert Ouko, who was in attendance could not hold back his exhilaration as he leaped up and down the dais each time a Kenyan won.
Kenya's gold medalists on that occasion were:
Light Welterweight David "DK" Kamau Towedros Michiku of Ethiopia
Bantamweight Stephen Mwema, who beat Ndaba Dube of Zimbabwe
Featherweight Patrick "Mont" Waweru who beat Charles Lubulwa of Uganda
Lightweight John Wanjau, who beat Haritora Rapotamanga of Madagscar
Light Flyweight  Maurice Maina, who beat Emmanuel Nsubuga of Uganda
Mohammed "Body" Orungi, who beat Martin Nougle of Nigeria
Welterweight Robert Wangila, who beat Sahelu Mekuria of Ethiopia
Superheavyweight Chris Odera who beat Tschibalala Kadima of Zaire.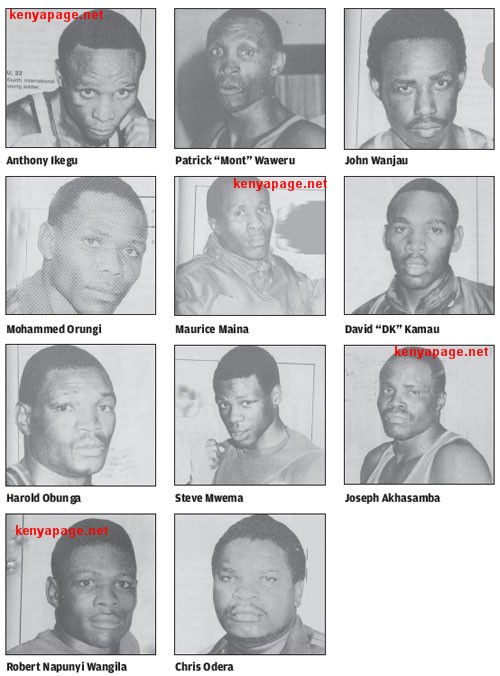 A year later at the 1988 Olympics in Seoul, Robert Wangila made history by becoming the first African ever to win an Olympic gold medal in boxing when knocked out Laurent Bouduani of France in the final.
The Knockout was significant because boxing results in those days were determined by the judges. And these judges were blatantly biased against African boxers. As such it was a well known fact that for an African to win, he either had to thoroughly dominate the fight of win by knockout. At those same Olympics, middlweight Christopher Ochieng Sande won a bronze medal.
Kenya were commonwealth games boxing champions in 1982, 1990 and 1994. In 1990, gold medals at the commonwealth games came via light heavyweight Joseph Akhasamba and heavyweight George "Foreman" Onyango. During the light welterwight final, Kenya's Nick Odore so thoroughly and utterly dominated the final fight against Charles Kane of Scotland that the match commentator who was British, proclaimed, "This is obviously a win for Kenya". Imagine the shock on Kenyan TV viewers when the blatantly biased judges awarded the match to Kane. Such was the atrocious officiating at international boxing matches in the pre-computer era. The other silver medal came via Abdirahman Ramadhani.
Kenya's performance at the 1994 All Africa games was even better. Abdirahman Ramadhani improved to gold in the light flyweight. Omar "Kassongo" Ahmed won gold in the heavyweight berth, while silver medals came via superheavyweight David Miriambo Anyim and Duncan Karanja. Middlweight Peter Wanyoike and light heavyweight Odhiambo Opiyo won bronze medals.
Boxing standards have dropped progressively since the 1982 games in Brisbane where Kenya clinched three gold medals, a silver and a bronze to retain the overall boxing crown they had won in the previous games in Edmonton, Canada.  The gold medallists in Brisbane were light-flyweight Ibrahim "Surf" Bilali, flyweight Michael "Spinks" Mutua and Hussein "Juba" Khalili. Light-welterweight Charles Owiso got silver while heavyweight Mohammed Abdalla Kent settled for bronze. The supremely talented Bilali went on to win a bronze medal at the 1984 Olympic games.
Kenya had lifted their maiden title four years earlier in Edmonton with seven medals through gold medallists light-flyweight Steve Muchoki and his younger brother, flyweight Michael "Stone" Irungu. Lightweight Patrick "Mont" Waweru, who later became national team coach, won a silver medal, as did light-middleweight Abdurahman Athuman. The bronze medallists were bantamweight Douglas Maina, light-welterweight Michael Mwangi and light-heavyweight Edward Thande.
How does one explain the superlative performance of Kenyan boxers in those days ? To begin with, there were boxing in neighbourhoods all over Nairobi that nurtured the talents of urban youth who showed an aptitude for boxing. Most notable of these was the Dallas boxing club in Nairobi's Muthurwa estate which produced dozens of future world beaters. There was also Nakuru boxing club which also produced several excellent boxers like Olympic bronze medalists like Philip Waruinge.
Waruinge represented his native country at three consecutive Summer Olympics, starting in 1964. After having won the bronze medal in the 1968 Olympics in Mexico, Waruinge captured silver four years later at the 1972 Olympics in Muninch, West Germany. He was awarded the Val Barker trophy for Outstanding Boxer at the 1968 Games. Stephen Muchoki was Kenya's next great boxer, winning gold in the light flyweight at the 1974 Commonwealth games.
A second reason for the high boxing standards in Kenya was the highly competitive national league, played on home-and-away basis. Talented boxers were offered jobs by companies like Kenya Breweries, Police Armed Forces, Prisons, Kimbo, Posta and Railways. Having an excellent boxing was matter of pride for these companies. Officiating was done by an independent body, the Referees and Judges Association of Kenya (R&J) which was affiliated to the Amateur Boxing Association of Kenya and its officials were neutral. However the R&J fell out of favour with ABA during the 1983 annual general meeting. ABA then formed a commission within itself to take over R&J duties.
That was the beginning of the dwindling standards of the local sport. Coaches formed the bulk of the commissioners and they soon started cutting deals. Nowadays, one can easily pick a winner in a boxing contest by merely checking who the ring officials will be. The ABA Nairobi branch was once the backbone of boxing in the country but all that changed with the demise of clubs like Kenya Breweries, Post, Kenya Railways and Kimbo.
All the medallists in the Brisbane 1982 Commonwealth games  save for Mutua of Kenya Railways – came from the Breweries club. It was Breweries boxer Robert "Napunyi" Wangila who, in 1988, won Kenya her first and only Olympic gold medal, in Seoul.
To put it in perspective, Kenya has not won an Olympic medal since 1988. And at the Commonwealth games which Kenya used to dominate, Kenya has won two bronze medals at the last two games in 2006 and 2010.