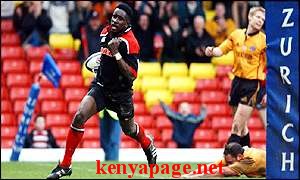 In 2001, the 21 year old Gerald Arasa became the first Kenyan ever to play in a top tier rugby Union league when he joined top English side Saracens RFC of London. Aside from the French League, the English premiership is the worlds top domestic league. He was also selected to play for the England Rugby under 21 team.
Gerald Arasa was born on 21 December 1980 in Nairobi. He attended Consolata primary school which at the time was one of the few primary schools in Kenya where the oval ball thrived. He moved to the United Kingdom during his school years. In the UK, he attended Mill Hill school where rugby development is superb. It was at Mill Hill that his rugby career started to take shape. In 1999 while completing his A-Levels at Mill Hill, Arasa was selected to the England under 21 team.He mostly played on the wing and sometimes at full back where he used his whiplash speed.
In 2001, he joined Saracens RFC. He stayed at Saracens for 3 seasons, making 19 appearances and scoring six tries. At Saracens he played mainly at full back, using his lightning speed to launch counter attacks. He left Saracens in 2003 and joined Welsh team, Gwent Dragons. The Dragons were at the time playing in the Celtic League, now known as the Magners League. He left Dragons in 2004 to join Penzance and Newlyn. In 2007 He joined London Welsh where he had 8 starts. He then wound up his competitive playing career at Luton RFC in 2008.