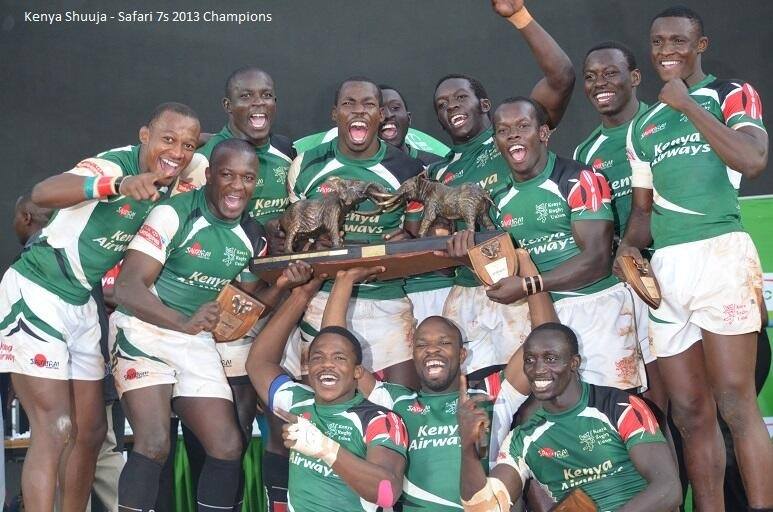 Shujaa's convincing 6 try romp over the Renegades of Australia as well 3rd place finish for Kenya's second team, the Morans is a pointer to good things to come for Kenya in the 2013-2014 IRB sevens season.
Some may point out correctly that the tournament was watered down by the absence of top teams like Samoa, Argenthttp://kenyapage.net/commentary/wp-admin/post-new.phpina and the Emerging Boks who graced previous editions.
Nevertheless the performance of Shujaa was impressive given the manner in which they ruthlessly dismantled every team on the way to winning. They did this despite not having a head coach. South Africa's Paul Treu who has been lined up as the next coach has been hindered from joining team Kenya until October by the South African Rugby Union. The mere fact that SARFU are standing in his way shows that Kenya has now become a true force to reckon with such that even the mighty South Africans are engaging in gamesmanship to try and weaken team Kenya.
The team that played in the 2013 Safaricom sevens was a blend of youth and experience. Veteran Lavin Asego, one of the best playmakers ever to put on the Kenyan jumper proved that he is still going strong almost 8 years after he first donned the Kenya jersey. Players like Mike Wanjala, Oscar Ouma  and Andrew Amonde were in superb form, picking up where they left off last season. And in newcomers like Billy "The big Kidd" Odhiambo, it appears Kenya has found a new crop of talented players who can push for positions and possibly become stars. The future seems secure.
In 2011, Kenya badly lost to Samurai in the quarter finals and it was a sign of things to come as Kenya went on to play so badly in the IRB sevens that the IRB threatened them with relegation. The stellar performance of the 2013 team certainly bodes well for the 2013-2014 season. Expectations are high after Kenya's 5th place finish last season.
However, Stand-In coach Felix Ochieng said he still has a lot of work to do to his team that is preparing for the opening leg of the 2013/2014 IRB World Sevens Series in Gold Coast, Australia on October 5 to 6.
"We still have to improve on fitness, one-on-one contact strength and consistency in structures like in ball handling," said Ochieng.
Schools Category
Again in 2011, the youth section of the tournament was won by Hanna Mixed school of Uganda who beat Western province of Kenya in the final.
This year the final was an all Kenyan with Nyanza beating perennial winners, Western 14-0 in the final. Rift Valley went on to beat Uganda 12-10 in the Plate Final. The fact that other regions besides western province are now putting forward strong teams is a good sign for the future of Kenya rugby sevens.