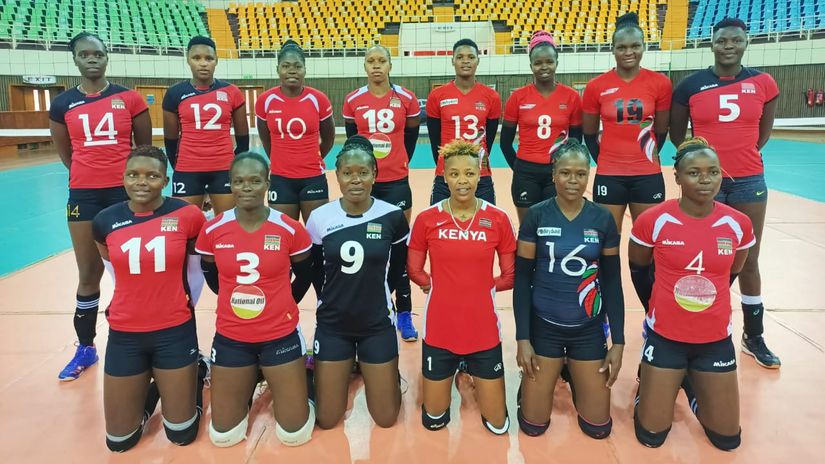 2000 Olympics
The first time the Kenya women's volleyball team better known as the Malkia Strikers qualified for the Olympics was at the 2000 Olympics that were held in Sydney Australia. The squad was a mix of grizzled veterans like Margaret Indakala and the late Doris Wefwawa who had seen international duty for a over a decade plus young upcoming players like the late Violet Baraza, Edna Chepngeno and Mary Ayuma.
Kenya lost all matches. The Scores were as follows:
1. Lost to Brazil 3-0(25–8, 25–11, 25–13) Total: 75–32
2. Lost to USA 3-0 (25–16, 25–6, 25–16) Total: 75–38
3. Lost to Australia 3-1 (25–16, 20–25, 15–25, 26–28) Total: 86–94
4. Lost to China 3-0 (25–15, 25–14, 25–18) Total: 75–47
5. Lost to Croatia 25–18, 16–25, 18–25, 18–25) Total: 77–93
All in all Kenya scored 280 points and conceded 412.
The point differential was 132 Points.
Kenya scored 67% of their opponents totals
Kenya won 2 sets
2020 Olympics
The 2020 Olympics held in Japan, marked the third time Kenya has qualified for the Olympics. The team was led by veteran setter Jane Wacu as well as Mercy Moim and Sharon Chepchumba
Once again Kenya lost all matches. The scores were as follows:
1. Lost to Japan 3-0 ((25–15, 25–11, 25–23) Total 75-49
2. Lost to South Korea 3-0 ((25–14, 25–22, 26–24) Total 75-60
3. Lost to Serbia 3-0 ((25–21, 25–11, 25–20)) Total : 75-52
4. Lost to the Dominican Republic 3-0( (25–19, 25–18, 25–10) Total 75-47
5. Lost to Brazil 3-0 (25–10, 25–16, 25–8) Total 75-34
All in all Kenya scored 242 points and conceded 375.
The point differential was 133 Points.
Kenya scored 65% of their opponents totals
Kenya did not win any set
| Olympic Year | 2000 | 2020 |
| --- | --- | --- |
| Points Scored | 280 | 242 |
| Points Conceded | 412 | 375 |
| Point Differential | 132 | 133 |
| Sets Won | 2 | 0 |
| Percentage of opponents points scored | 67% | 65% |
In summary, Kenya performed slightly worse in every statistic. This means after 20 years, Kenya has not made any progress despite participating in several global competitions especially the world championships where Kenya has appeared six times since 2002 as well as the global volleyball league.
This means that after 20 years, neither the sports ministry nor the Kenya volleyball association has been able to put in place any structures that would enable Kenya to improve
Why has Kenya not improved
The main reason Kenya continues to lag behind is lack of player development.
Scouting
In other countries, players with potential are identified at a young age by coaches who are trained in talent development. The raw attributes that scouts look for are height, leaping ability, agility, reflexes and athleticism. Coaches traverse primary schools all over these countries, identify raw talent and invite them for tryouts.
Talent Development
Those who pass tryouts are put in special programs as early as age 10. In countries like China, this is typically a boarding school where students go to class at daytime and sharpen their volleyball skills in the evening after classes under the tutelage of qualified youth coaches. By the time they leave secondary school, they have extremely high skill levels, ball control. They understand how to study opponents and exploit their weaknesses. They are prepared psychologically and are able to deal with adversity. Critical skills like the jumping spike are sharpened during their secondary school years. By the time they leave secondary school, they have better skill levels and have better tactical awareness and ball control than a veteran Kenyan national player.
Very little player development happens in Kenya. Skill development during the crucial teen years happens erratically and it happens only a few schools. The coaching skills at most Kenya secondary schools are highly suspect.
The previous Sports Minister Hassan Wario took some tentative steps towards this kind of talent development by establishing the Kenya Academy of Sports in 2013. But having only 1 or 2 centres of excellence is not enough. And the current sports minister Amina Mohamed has done nothing and neither has the Sports PS Joe Okudo.
Structured Youth development is the key to producing higher calibre players. If Kenya does not start producing better refined, higher calibre players then even 20 years from now, the results will be the same. 
Incentives
In countries like the USA, youth are incentivized to take volleyball seriously due to the possibility of landing scholarships at top Universities. Elsewhere in other countries, there is the possibility of earning a good living from volleyball.
In past years, Kenyan players were incentivized to work hard at volleyball due to the possibility of gaining employment at parastatals and some private companies that had volleyball teams. This incentive has diminished. A good sports minister would find ways to encourage teams like Posta to re-establish their now defunct teams and even Universities to establish scholarship programs for students.