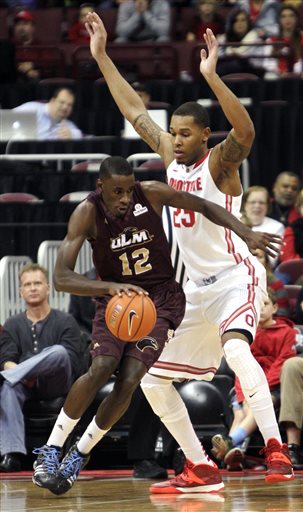 This season, Kenyan forward Tylor Okari Ongwae's made his debut in NCAA division 1 basketball playing for the University of Louisiana Monroe, popularly known as the Warhawks. Ongwae who starred for Kamusinga secondary in 2009 before playing for the national was the starting forward for the University of Louisiana Monroe. He had a superb season in which he led the Warhawks in scoring with 16.2 points per game. He was second in rebounding with 5.8 rebounds per game.
Prior to the season, it had been projected that senior forward Amos Olotayo would lead the team in scoring. But Olotayo went down with an injury early in the season. At the time he had been leading the team with 13.2 points per game. Olotayo's exit meant that the team would now be highly dependent on Ongwae who had been second leading scorer. Ongwae duly obliged, competently taking over primary scoring responsibilities.
During the season, he had eight 20-plus scoring games on his resume and three double-doubles. He scored 27 points and 11 rebounds in ULM's season-opening 103-98 victory over arch rivals, University of Louisiana Lafayette,  on Jan. 4. Ongwae recorded 27 points and 10 rebounds against first-place Georgia State on Jan. 25. In the second meeting against the Ragin' Cajuns, he scored 16 points and 11 rebounds.
In addition to leading ULM in scoring, he led  the Warhawks in free throw percentage (.770) and steals (30) and is second in rebounding (5.8 rpg) and minutes (32.2 mpg). He has played at least 40 minutes in three contests.
His superb performances saw him named to the National Association of Basketball Coaches (NABC) All-District Second-Team. He was also named to the Sun Belt Conference Third-Team and the College Sports Madness SBC Fourth-Team.
Sunbelt Conference Tournament
After the season comes the Conference tournament, which is similar to the playoffs in the NBA. The intensity of the game usually goes up by several notches. With the increased intensity, Ongwae upped his game. His rebounds per game went up to 6.5 and his scoring went up to 17.7 per game.
Greatest Performance by a Kenyan
Ongwae's performance is easily the greatest by a Kenyan. There have been other Kenyans who have starred in college basketball in the USA but none have made such an impact in division 1 basketball. In fact most Kenyans who play college basketball in the US tend to play in division 2.
There have been players of Kenyan descent who starred in division 1 basketball such as Robert Nyakundi who led Southern Methodist University in scoring in 2012 and Omondi Amoke who starred for the University of California Bears. But both of them are essentially Americans. They were born and grew up in the USA unlike Ongwae who learned his craft in Kenya and sharpened it at Ranger college in Shreveport Louisiana before joining ULM.