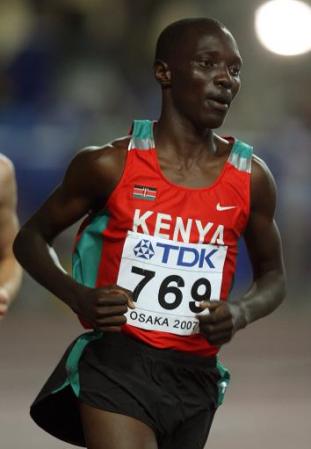 Asbel Kiprop facing charges
According to reports in the people newspaper, 2 time world champion and one time Olympic Champion Asbel Kiprop could face charges after he and four others assaulted a security guard.
Kiprop who is also a police officer,allegedly entered into a bar in Iten town on Sunday night past the stipulated drinking hours and forced his way into the social joint while drunk. The night guard identified as James Mukuria who was manning the bar told him that the main door had been locked since the official drinking hours were over and police officers on patrol would arrest them if they find the joint operational at that time.
An enraged Kiprop together with other four men who were with him, dragged the guard to the door before hitting him with a gun butt threatening him that he was a senior police officer who can go anywhere he wants at any time without restraint. "Kiprop punched me several times on the mouth and kicked me on my private parts saying that he is a police inspector and cannot be questioned by anyone or taken anywhere," said Mukuria.
Accident
This event happens only a month after Kiprop was involved in a car accident. Kiprop was reportedly driving his car with James Kangogo in the passenger's seat when he lost control on a sharp turn and crashed four kilometers from Kabarnet. The wrecked car was approximately a meter away from rolling off a cliff, but the vehicle was stopped by a rock, which was locked underneath the car. The car was suspended and did not fall into the rocky valley.  It is not clear why Kiprop was driving in a dangerous area at such speeds
Shades of Samuel Wanjiru
Kiprop's erratic behavior and drinking is reminiscent of the late Samuel Wanjiru, the most talented marathoner ever but who failed to reach his full potential and eventually died in large part due to erratic behavior and drinking.
Wanjiru's talent was such that he won big marathon races even when his prepration was hampered by his ill-advised extra curricular activities. Had he stayed focused, Wanjiru would likely have set the world record, won several more medals and possible become the undisputed greatest marathoner ever. Instead fans are left to wonder how much he would have accomplished.
Kiprop too is showing signs of not fulfilling his potential. Despite being world champion twice there is still a lot yet for him to accomplish. Perhaps it is because he is already fabulously wealthy and is losing motivation. Or maybe his thorough and utter dominance in 2013 has left him bored. Some athletes need a legitimate challenger to push them much like El Guerrouj and Lagat pushed each other.
But at the rate he is going , we could soon see the beginning of his decline. It is not even clear whether he will recover from the injuries he suffered during the accident. Nor is it clear whether he is following the kind of strict rehabilitation regimen that is needed to recover fully.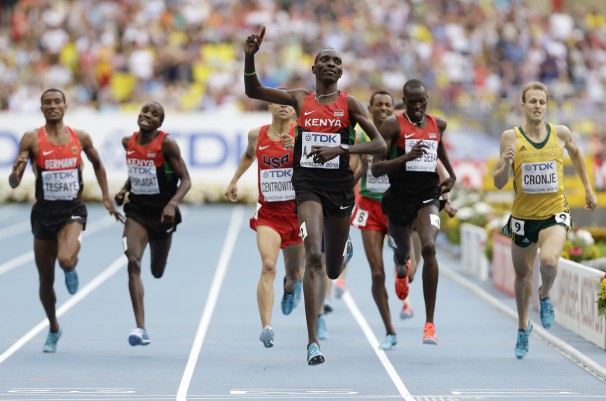 Alcohol and athletic performance do not go together
What is clear however is that he might have a significant drinking problem. This is bad because alcohol and athletic training make poor bedfellows. One cannot train of rehab if they have a hangover. Drinking can increase the potential for unusual heart rhythms. This is a risk which significantly increases during exercise up to two days after heavy alcohol consumption
Alcohol consumption also makes it difficult to recover from injuries because the recovery process slows down. "It's difficult to quantify how much you have to drink but we know that alcohol causes the blood vessels to the skin, arms and legs to open up," explains Griffin. "The increased blood supply makes an injury bleed and swell even more.
Kiprop needs to refocus before it is too late
Despite two world championships, Kiprop still has a lot left to accomplish. He could challenge the Kenyan 1500m record that was set by Bernard Lagat. With proper focus , he even has the ability to challenge Hicham El Guerrouj's world record. By winning another Olympic gold medal, he could cement his place as one of the all time greats in the 1500m. If he does indeed break the world record, he will go down as the greatest miler ever. He has never attempted any records yet last year he clocked 3:27.72.
All this however will not happen if he continues at the rate he is going. The injuries he suffered from the accident may not heal fully. He could even end up in prison which will effectively end his career. At worst he could end up in a casket or with a career ending injury. Remember that Noah Ngeny, the 200 Olympic gold medalist, perhaps the most talented miler Kenya has ever produced, saw his career end early due to an accident. Asbel Kiprop is clearly not short of lessons to learn from.
Hopefully he has one or two  good people around him who can sit him down and veer him away from the path he has been taking over the past few months.