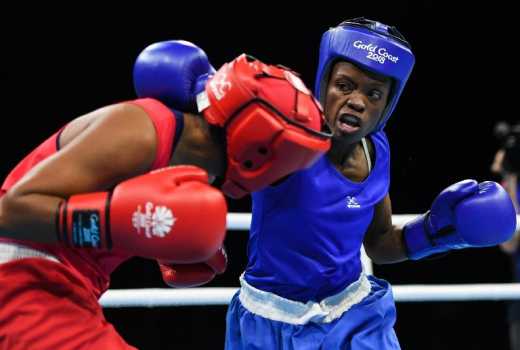 Kenya's performance at the 2018 Commonwealth games boxing competition was the worst ever. Kenya sent a team of 10 boxers. Seven of them lost their opening bouts. Only three won their opening bouts but then promptly lost their second bouts. So in total Kenya won three matches. It is the second lowest ever. The worst was 2002 when Kenya only sent four boxers. Kenya's only medal, a bronze, was won by Christine Ongare, in the diluted women's section where boxers need only win one match in order to win a medal. Kudos to Ongare for putting on a valiant fight.
Kenya finished in the 13th place with their sole bronze medal. England topped the boxing medal chart with six gold medals. India were second with three gold medals.
No that was not a typo. India won 3 gold medals, 3 silver and 3 bronze medals !
Kenya used to be Commonwealth games boxing champions. The best performances by Kenya came in 1978, 1982 and 1990 when they topped the charts with 3 gold medals, winning as many as 18 bouts. In fact at the 1982 Commonwealth games, Kenyan boxers won more medals than their athletics counterparts.
Why did Kenya have such a good boxing team during this era?
Kenya participated in numerous International Competitions
During the 1970s, 1980s and 1990s, the Kenya national boxing team participated in a myriad of tournaments every year. Such tournaments included the Kings cup that was held in Thailand and featured the world best boxers, the African championships, All Africa games, world championships, East and Central African Championships, Brunner Urafiki tournament which featured teams from Kenya, Uganda and Tanzania, and several others. There was also international friendlies. Since Kenya was a formidable team, numerous national team sent their national teams for friendly matches against the Kenya boxing team. Among the teams that toured Kenya for friendlies were Canada.
The net result was that Kenyan boxers gained valuable experience from regularly competing against the best boxers. They measured their strength and tactical approach against top class competition. So by the time a tournament like the Commonwealth games came around, they were battle hardened and ready.
This is a stark contrast to what pertains today. Tournaments like the East and Central championships and Brunner Urafiki no longer exist. Kenya no longer participates in the Kings cup which is now known as the Thailand Invitational.
Vibrant Domestic League
During the 1970s, 1980s and 1990s , the domestic boxing league was vibrant. Numerous private companies sponsored teams including East African Breweries and KCC. Almost every parastatal had a competitive boxing team including Kenya Airways, Kenya Railways, Posta and Nairobi City council. And finally, each of the forces had a team including Police, Armed Forces and Kenya Prisons. There were also self supporting teams, most notably Nakuru Boxing club which produced Olympic silver medalist Philip Waruinge as well as excellent boxers like George Findo and DK Kamau.
Companies like Kenya Breweries (now known as East African Breweries), offered young boxers employment opportunities. They invested heavily in their boxing team. As an example, Ibrahim Bilali, who won a bronze medal at the 1984 Olympics, started boxing for KBL while still a secondary school student at Highway secondary. The KBL bus would pick him up from school every day to take him to the KBL training gym. Boxers were given well paying positions at companies like KBL and KCC. This served as a motivator for young boxers. It motivated them to sharpen their skills in the hopes of securing employment.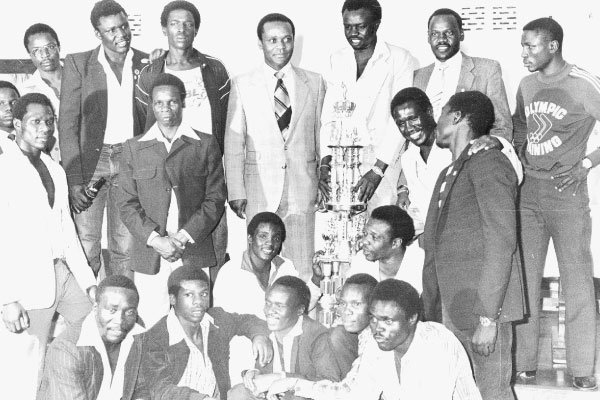 Even parastatals invested heavily in boxing. For example, Kenya Airways regularly ran a boxing gym in Kibera which they used to tap the rich vein of talent that is Kibera. The nubian community, that predominantly lives in Kibera were natural boxers and produced a disproportionate number of world beating boxers. They had (and stil have) a reputation for being tough as nails. But today it is unlikely that anyone is tapping this rich vein of talent.
The league was vibrant with many teams and it became very popular. Boxing matches pitting top teams like Police vs KBL were well attended by rabid fans. The boxers became famous. This also served as a motivator for the boxers. And because there were so many teams, a very large number of boxers got opportunities to box regularly. The Kenya Boxing Association was then under the astute leadership of Major Marsden Madoka.
Today unfortunately, virtually all the private companies like KCC and KBL have stopped funding boxing teams as have all the parastatals like Railways and Posta. Only the forces like Police and Armed Forces still have teams. As a result the local league has lost its lusture. Youth are no longer motivated to work hard on boxing since it no longer offers employment opportunities.