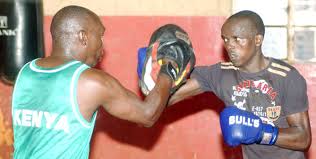 Back in the 1970s and 1980s, The Kings cup was one of the most prestigious boxing tournaments in the world. Teams sent full strength squads and Kenya regularly participated. The 10th Kings Cup tournament was held in Bangok Thailand from April 3 to April 10, 1984. Kenya sent a full squad.
It was one of Kenya's best performances ever in a boxing tournament. All the Kenyan boxers won their opening bouts and all but two won their second bouts. 10 Kenyans reached the semi-finals and five reached the finals. Kenya ended with 2 gold and 3 silver medals
The gold medals came from Augustus "Rojo" Oga and Patrick "Mont" Waweru. The silver medals came from James Wanyoike, Ibrahim Bilali and Charles Owiso.
Daniel Mwangi: Light Flyweight
Round 2: Beat Soomboon Khunsuk of Thailand on points
Quarter-Final: Beat Pramouk Chaiyarit of Thailand on points
Semi-Final: Lost to Young-Sang Kim of Korea on points
Charles Kariuki: Light Flyweight
Round 1: Beat Dennis Franklin of Australia
Round 2: Beat Mahdi El-Hadidi of Egypt on points
Quarter-Final: Lost to Roderick Moore of USA
Ibrahim Bilali: Flyweight
Round 2: Beat Bert Harris of Australia via KO in round 1
Quarter-Final: Beat Mungkorn Polchai of Thailand on point
Semi-Final: Beat Dae-Ho Park of korea on points
Final: Lost to Yong-Mo Heo of Korea on points
Sammy Mwangi: Bantamweight
Round 2: Beat Metsese Nanna of Nigeria on points
Quarter-Final: Beat Wiem Sapulette of Indonesia on points
Semi-Final: Lost to Abbay Abdrakhmanov
John Wanjau: Featherweight
Round 2: Beat Billy Meehan of New Zealand on points
Quarter-Final: Beat Shane Knox of Australia
Semi-Final: Beat Hyung-Ok Park of Korea on points
Final: Lost to Lupe Gutierrez of USA on points
Patrick "Mont" Waweru: Lightweight
Round 2: Beat Boala Sakoon of Thailand on points
Quarter-Final: Beat Jesse Lopez of USA
Semi-Final: Beat Yupadon Kaewpadsin of Thailand on points
Final: Beat Wisut Meesuantong of Thailand on points
Titus Omondi: Lightweight
Round 2: Beat Akira Tomonari of Japan on points
Quarter-Final: Lost to Wisut Meesuantong of Thailand on points
Charles Owiso: Light Welterweight
Round 2: Beat Wilfred Gentzen on points
Quarter-Final: Beat Somchai Polyium of Thailand on points
Semi-Final: Beat Erik Khakimov of the USSR on points
Final: Lost to Roderick Moore of USA (referee stopped contest)
Peter Wanyoike: Welterweight
Round 2: Beat Lars Gunnar Frandsen of Norway
Quarter-Final: Beat David Gutierrez of the USA on points
Semi-Final: Lost to Israel Akopkokhyan of the USSR on points
James Wanyoike: Light Middleweight
Quarter-Final: Beat A.Hussain of Pakistan
Semi-Final: Beat Hae-Jung Lee of Korea on points
Final: Lost to Reggie Johnson of USA on points
Augustus "Rojo" Oga: Middleweight
Round 2: Beat Suchart Kanchanaprasert of Thailand on points
Quarter-Final: Beat Brendon Cannon of Australia on points
Semi-Final: Beat Darrell Stubblefield of USA on points
Final: Beat Valeriy Laptyev of the USSR on points
Alois "Les Les" Muiruri: Middleweight
Round 2: Beat Chiharu Ogiwara of Japan (referee stopped contest)
Quarter-Final: Beat Theera Daengsopa of Thailand
Semi-Final: Lost to Valeriy Laptyev of the USSR on points
Sylvanus "Sulu" Okello: Light Heayweight
Round 2: Beat Anan Inkanket of Thailand
Quarter-Final: Lost to Vladimir Shin of the USSR on points
James "Demosh" Omondi: Heayweight
Quarter-Final: Beat Yoo-Hyun Kim of Korea on points
Semi-Final: Lost to Avery Rawls of the USA (referee stopped contest)