//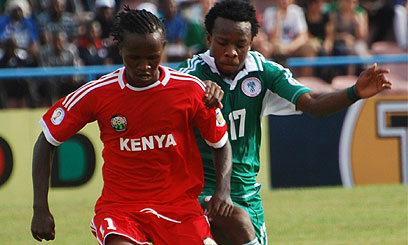 Kenyan midfielder, Francis Kahata gained international fame when he struck an amazing free-kick against Nigeria during a 2014 world cup qualifier in Calabar Nigeria. The free-kick earned rave reviews not least from his Nigerian opponents, most notably goalkeeper Vincent Enyeama who described it as one of the best free-kicks he has ever seen. That is quite a compliment considering that Enyeama plays in Europe.
Kahata is indeed an excellent dead ball specialist and has scored from many dead ball situations in the Kenya premier league. In fact when he stepped up to take that free-kick in Calabar, I knew the Nigerians were in trouble.
But dead balls aside, Kahata is probably the most fundamentally sound players in the Kenya premier league. His ball control is head and shoulders above other KPL players. Sometimes it looks like he can do virtually anything with the ball at his feet. He is comfortable playing on the wing or in central midfield. He displays superb vision and play-making ability.
These skills did not happen by accident. Thika United is the only team in the Kenya premier league that has had any semblance of a youth system in recent years and Kahata joined Thika at age 14 alongside pass-master Peter Opiyo. Both have turned out be highly polished players. Kahata with his brilliant on the ball skills and Opiyo with his excellent passing skills. Both are often found in the Harambee Stars engine room.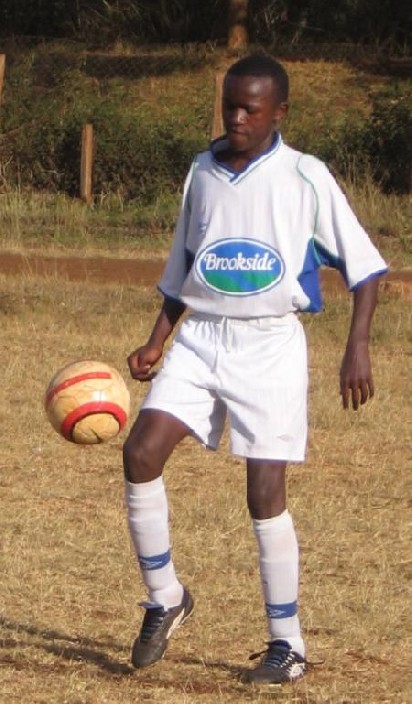 Aside from playing at Thika United since his early teens, Kahata also spent a few months in Italy with Ravena Calcio when he was 15.
Exposing players to good coaching at a young age is what enables them to build good fundamentals. It is easier for a player to grasp fundamentals and build good football habits if these are taught at a young age. Gor Mahia legend Sammy Onyango who could shoot, pass, cross and take corner kicks with both feet was also a product of a youth system run by German coach Bernard Zgoll in the late 1970s. The ability to use both feet is a skill that can only be sharpened at a young age.
Kenya has several highly talented players. What lets them down is the fact that most of them grew up playing football in the streets with no proper guidance. By the time they get a decent coach, they are already adults and it is too late. Thats why for example, it is impossible to find two footed players in Kenya.
Kahata may not be the most talented player in Kenya. He is not the fastest or the strongest. There are players who have better physical tools than Kahata. But their lack of fundamentals will let them down when it counts.
Take Dennis Oliech for example. At age 17 he took the country by storm with his breathtaking speed and ability to take on defenders. This amazing raw talent is what earned him a place in France with Nantes. But when he landed there, his lack of fundamental skills almost saw him cut from the team. Fans marveled at his speed but bemoaned his lack precision with shots and crosses. But Oliech's immense physical talents compensated for his poor fundamentals and allowed him to stay in Europe. In the subsequent years, Oliech has worked hard on his game and amazingly , he can now be seen shooting and crossing accurately even with is weaker left foot.Yet had Oliech undergone structured youth development with the talent he has, he may have ended up as one of the best strikers in Europe.
Other Kenyan forwards shone in Kenya but they failed to succeed because their raw talent could not overcome their poor fundamentals.
Kahata is also a rarity in that he grew up in Ruiru, a place that never produces national calibre players. He proves that with proper exposure and nurturing, any region of Kenya can produce talent. The one aspect that Kahata should work on is his slight stature. It is perhaps the one issue that would prevent him from making in in Europe where the game is very physical.
If more teams in Kenya were running youth schemes such as the one at Thika United , Kenya could field a team with players who in addition to having excellent physical tools, also have superb ball control and have deadly deadball skills.
In Europe, each team has at least 2 or 3 players capable of bending a freekick into the net. Contrast this with the case in the KPL where you will be hard pressed to find any decent dead ball specialists besides Kahata.This is one reason why far fewer goals are scored in the KPL compared to the European leagues. Harambee stars fans from the 1980s will recall how Sammy Onyango curved a corner kick directly into the net to salvage a point for Kenya against Malawi. Remember that Onyango was a product of Bernard Zgoll's youth scheme. In modern football, dead ball specialists are a key component of any successful team.