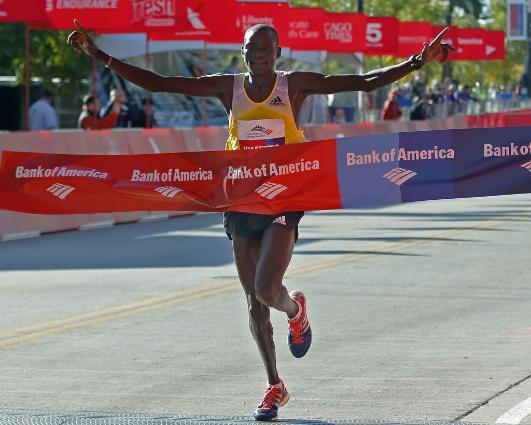 Kenyans occupied the top 4 positions in the 2013 Chicago marathon and all four Kenyans ran their personal bests.
Dennis Kimetto was the winner. In the process he set a new course record with a time of 02:03:45. The time was a new course record which earned him a bonus of $75,000. Kimetto is now officially the third fastest marathoner ever after compatriots Wilson Kipsang and Michael Makau.
Emmanuel Mutai finished second in 02:03:52 and is now the 4th fastest marathoner ever. It was the fastest time ever run by a second place finisher in a marathoner.
Sammy Kitwara was 3rd in 02:05:16 and Micah Kogo was fourth in 02:06:56. Both Kitwara and Kogo have represented Kenya at the 10,000m in the recent past but have now abandoned the track for road racing. The exodus of Kenya's top distance runners from the track to the roads has left Kenyan track ranks depleted thus leaving Mo Farah to dominate. In fact Kimetto who won this race has never run on the track ever !
Speaking of Kimetto, he may be an unknown quantity to most. At 29 years of age, he is a late bloomer. He was a subsistence farmer until three years ago. hen in 2010, Geoffrey Mutai found him in a shopping centre and asked him to join his running group. It was at this point that he took up competitive running.
His rise since then has been meteoric. In 2012, he set the world record in the road 25km with a time of 71:18. This was 32 seconds faster than the previous record. Also in 2012, he ran the fastest ever marathon debut with a time of 2:04:16 in the Berlin marathon. In 2013 he won the Tokyo marathon with a course record of 2:06:50. Watch out for Kimetto to challenge the world record soon.
Rita Jeptoo & Jemima Sumgong go 1-2
The performance of the Kenyan women was equally spectacular. Rita Jeptoo won in 02:19:57, dipping under 2:20 for the very first time. Jemima Sumgong clocked 02:20:48 to finish second, also a personal best.
It was sheer joy for Jeptoo. Last year she raised her hands at the finish line thinking she had won, only for her to finish second.
Jeptoo's time is the fastest in the world this year and the only one below 2:20. Sumgong's time is the 3rd fastest of the year.