//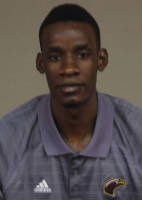 Kenyan forward, Tylor Okari Ongwae is set to reach a major milestone when he suits up for the University of Louisiana Monroe starting in October of this year.
Ongwae,who born on 1991 and grew up in Eldoret, had previously played for Ranger Junior college for two years. While at Ranger college, Ongwae helped the team to a 9-1 conference record. He was named to the All-Region and All-Conference teams while leading the team to the 2012-13 conference championship. He was the leading scorer at Ranger college with 16.2 points and 8.3 rebounds per game.
Junior college careers last two seasons upon which those players who are good enough are offered opportunities to join senior colleges. The very best are recruited to join NCAA division 1 teams. And this is what makes Ongwae's accomplishment worth applauding.
Ongwae is well known in Kenya basketball circles. He was a secondary school legend at Friends school Kamusinga whom he led to winning the Western province championship in 2009. That same year, Kamusinga reached the national finals against the juggernaut that was Laiser Hill. Ongwae scored 43 points but a strong Laiser Hill side with players like Sudi Ulanga won.  In the semi-finals, Ongwae had scored 34 points to propel Kamusinga over perennial giants, St Austins whom they beat by four points. Ongwae was named the MVP of nationals that year.
After leaving Kamusinga, he played in the Kenya national league. At age 19, he was selected to play for the Kenya national team in an All Africa games qualifier against Rwanda.
The University of Louisiana Monroe which Ongwae will feature for the next two years, is based in the City of Monroe. It was once a regional basketball powerhouse but has since fallen on hard times. Its glory days were the early 1990s. Back when it was known as Northeast Louisiana University, it qualified for the NCAA tournament four consecutive times between 1990 and 1993. The NCAA tournament is the season ending tourney where the top 32 colleges in the nation are invited. The last time ULM qualified for the NCAA tourney was in 1996 when they came up against the Wake Foreast team led by the legendary Tim Duncan.
He is 6 foot 7 inches, has excellent outside shot and is very athletic and looks set to be in the ULM starting 5.
ULM fans who are starved of success will be hoping that Ongwae can be part of the team that will bring some glory back to ULM basketball.