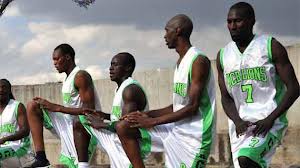 Kenya commercial Bank has as of January 2013 disbanded its mens basketball team. This comes 6 years after KCB disbanded its women's basketball team.
Its a sad commentary because KCB is one of the oldest basketball teams in Kenya if not the oldest. It was formed in 1976 as Kencom Lions. And according to the Kenya Basketball Federation, it was the team with the biggest fan base. In its 36 years of existence, KCB won the national league several times including 2008 Cooperative Bank in the final. KCB also had several national team players over the years most notably Ancette Wafula, the captain of the Kenya national team in 2013.
The Kenya commercial bank was sponsoring the basketball team to the tune of sh 6 million. A healthy amount by Kenyan standards. Aside from offering employment to potential players, it widened the player base by providing opportunities to players some of whom would not have played if not for KCB.
KCB was the last of Kenya's top banks to sponsor a basketball team after Barclays and Standard Chartered disbanded their teams during the 1990s.
Why did KCB pull their sponsorship ?
There is no word yet on why KCB decided to pull the plug on their teams. Hopefully one of Kenya's enterprising journalists will find out. sh 6 million is nothing in the grand scheme of things when you consider that KCB sponsors the national car rally to the tune of over sh 100 million. So KCB must have made the determination that despite the fact that basketball is more popular than rallying, they are getting a better return on investment by sponsoring rallying.
Why would KCB get more business by sponsoring rallying ? The answer lies in the fact that rallying officials and many staunch rallying fans are generally wealthy and influential  and thus can get KCB to sponsor their sport. Secondly rally fans due to their deep pockets must be spending far more money at KCB than do basketball fans. Thirdly, these rally bigwigs many of whom are the CEOs of Kenya's top companies are able to use their corporate power and influence to get the sponsorship because the companies they run are some of KCB's biggest customers.
Basketball has no such luck. Therefore the people in charge of basketball must work harder to garner sponsorship. They must make the game of basketball attractive to sponsors buy making it more popular amongst the public.
Despite the fact basketball is a popular sport in Kenya, the local league has not captured the imagination of the public. Yes there are some decent sized crowds at some league matches but the local league simply is not a major topic of conversation and neither are the matches shown on live television. With such a lack of passion and no publicity , Kenya basketball will always struggle to get sponsors.
Create value for potential sponsors.
In order for local basketball to pull and sustain sponsorship, the KBF will have to get out of its comfort zone and organize tournaments that can attract passionate support from the public. In this regard, community basketball is the way forward. The intercity basketball tournament is a good start. It is easier to get the public passionate about their cities or their counties or even their neighborhoods than it is to get the public passionate about a corporate team like KCB. A basketball tournament pitting Nairobi's various neighbourhoods would also be a crowd puller. One only look at the defunct Sakata ball tournament to see how passionate people are about their neighbourhood teams.
The point here is that KBF will need to create tournaments or package games in such a way that public interest will increase dramatically thus making sponsors interested. A league dominated by corporate teams and University teams will always struggle to capture the imagination of the public.
Even Eagle wings which is a self sustained team is not a community team. Which means it will struggle to create  a fan base.
Again the intercities tournament is a good start. However it has not been publicized and marketed adequately. Also, rather than have one team for Nairobi, the city with 3 million people should have at least 3 teams. One representing each of the largest constituencies in the city. So you would have a basketball team representing Makadara, Langata and possibly Westlands constituencies in the Intercities tournament.
This is similar to the English premier league where Arsenal represents North London, Chelsea represents central London and then there are other teams representing other parts of London such as West Ham and Millwall. Community teams like these are part of the reason Britons are very passionate about their teams.
Get sponsors to sponsor playing grounds
It goes without saying that nations that do well in basketball are typically those where basketball courts exist all over urban areas. The presence of playing grounds all over the city is what makes it possible the youth to sharpen their skills.
However there is a severe lack of playing grounds in Kenya's urban areas. KCB and other companies would get good mileage and enjoy good publicity by constructing playing grounds for Kenya's youth and branding them with their corporate names. So instead of calling the famous bakstball grounds in Kisumu the Kenyatta grounds the famous ground KCB sports grounds or Safaricom sports grounds. A corporation would get very good publicity by sponsorsing a sports ground that is used by hundreds of youth.
 Yet construction of a basketball court would cost only a pittance for a company like KCB. Aside from allowing Kenyan youth to sharpen their basketball skills, it would also offer the thousands of unemployed Kenyan youth a way to keep themselves busy with positive activity and away from crime. Companies would thus get very good publicity not only for investing in the future of Kenyan youth but also for keeping them in positive activities and away from crime. In fact KCB will get better publicity through community efforts like these than if they actually sponsor a team in the league. And the construction and maintenance of basketball courts in neighbourhoods of urban areas would benefit the game of basketball. Aside from allowing future players to sharpen their skills, it would also help spread the game and make basketball more popular. The more popular the sport is, the more likely that sponsors will want to be associated with basketball.
Over to KBF
This column has provided a few ideas. The onus is now one KBF to find ways to stem the tide of sponsors deseerting the sport. At this rate it might just be a matter of time before companies like Co-operative bank pull their money out of the league.