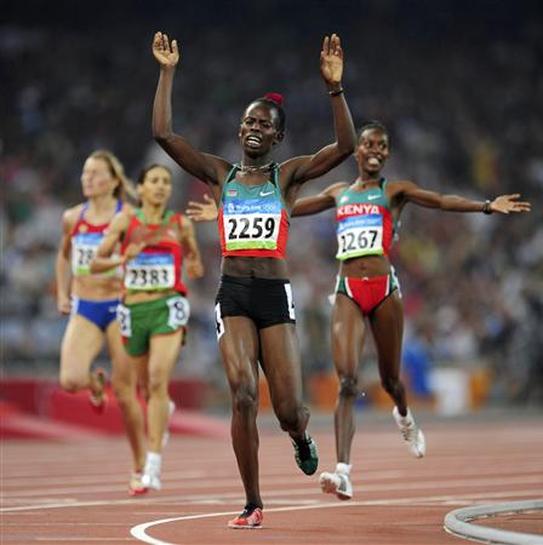 Background
The 2008 Olympics were held in Beijing China from August  8 to 24 August. Kenya won 6 gold 4 silver and 6 bronze. A total of 16 medals. That was good enough for second position in the Athletics medal table and 13 position overall. Up to that point, this was Kenya's best performance ever.
A significant factor in Kenya's dramatic improvement was the fact that out of competition testing for EPO was now in full swing. Thus the playing field, while not level, was much fairer than it had been since the early 1990s when EPO use started.
800 metres : Bungei finally strikes gold
For 7 years, Wilfred Bungei had been  one of the best and often the best 800 metre runner in the world. He won numerous races on the European circuit and often emerged as the top 800m runner of the season. But at major championships, runners who hardly won anything on the European circuit would come out of nowhere and beat him. In fact by 2008, Bungei had only one major championship medal which was a bronze medal at the 2001 world championships.
A significant factor in Bungei's lack of success in major championships was the fact that his tactical approach had been highly dependent on having a pace-setter. At major championships this would require a team-mate to sacrifice himself.
However in 2008, Bungei finally came up with a tactical approach. Basically he decided to become his own pacesetter. Bungei led and controlled the race from start to finish, setting a searing pace that he was comfortable with and that would tire out the other runners. The tactic worked brilliantly as Bungei led from gun to finish to win a long sought gold medal.  Team-mate Alfred Kirwa Yego who was the defending world champion, finished with a bronze medal thanks to a solid effort in the last 80 metres.
Race Video
1500m: Kiprop is awarded belated gold
Kenya had two runners in this final: Augustine Choge and Asbel Kiprop. There was also Belal Mansoor, a Kenyan turned Qatari. He was formerly known as John Yego. Kiprop set the early pace before Choge took over. He led until 250 metres to go when he was passed by Mansoor and Iguider of Morocco. Rachid Ramzi, the Moroccan turned Bahraini also made a move, passing all the runners before setting a significant gap with 100 metres to go. Asbel Kiprop gave chase but despite a valiant effort, could not catch Ramzi who won and awarded the gold medal.
In April 2009, it was announced that Ramzi's sample from the Olympics had tested positive for CERA which is an advanced version of the blood booster EPO. In November, his B sample also tested positive and the Olympic gold medal was taken away. Kiprop was thus elevated to gold.
Race Video
3000m Steeplechase: Brimin Kipruto saves Kenya's pride
Once again Kenya had the three top atheletes in this event: Ezekiel Kemboi, Brimin Kipruto and Richard Mateelong. All three made the final. Ezekiel Kemboi appeared to be in fine form has he led for most of the last 3 laps. With 250 metres to go, Kemboi suddenly developed a limp, leaving Kipruto and Mateelong to battle. With 100 metres to go, two Kenyans were neck and neck with Makhiedine Benakhissi of France. Kipruto had an extra gear and was able to beat the Frenchman to the finish line. Mateelong took bronze.
Race Video
Marathon: Wanjiru wins Kenya's first ever marathon gold
By 2008, No Kenyan had ever won a gold medal in the Olympic marathon. This despite Kenyans dominating every city marathon. The closest a Kenyan had come to winning was in 2008 when Japan based Douglas Wakiihuri took silver. 20 years later Kenya had very high hopes as theu fielded a strong team. Luke Kibet, the reigning world champion was there was multiple London Marathon champion Martin Lel. Kibet succumbed to the intense heat and humidity and dropped out midway through the race. It was left to another unknown Kenyan, Sammy Wanjiru who surged away from the leading pack at the 40 kilometre mark to win in an Olympic record time of 2:06:32. Despite the heat and humidity, Wanjiru looked very strong as he entered the stadium for the final lap, waving from side to side then raising his arms in triumph at the finish line.
Race Video
800m: 1-2 Finish for Jelimo and Jepkosgei
Hopes were extremely high that Kenya would gain its first ever gold medal by a woman in this race. Janeth Jepkosgei had won the world championship gold in commanding style in 2007. And in 2008 19 year old Pamela Jelimo had emerged as the most dominant runner of this event since Jarmila Kratochilova in the 1980s.
Jepkosgei set the early pace as is her style. Jelimo took over in the last lap and attacked the 400m to 600m section, establishing a significant gap that no one was able to close. She took gold in 1:54.87 , a new World Junior Record. Jepkosgei took silver in 1:56.07.
Race Video
1500m: Nancy Lagat with a storming run
Nancy Jebet Lagat had shown a lot promise as a Junior. In 1998 as 16 year old she won a silver medal at the IAAF World Junior championshiops.  In 2000, she won the gold medal at the IAAF World Junior Championships in the 800m. But her promise from junior level had not translated to senior level. After 8 years of running, she had not won a single medal be it in a global event or continental event.
In this race, she was not considered a strong contender. That honour belonged to Ethiopian turned Bahraini Miriam Jamal who had dominated this race for the previous two years. In the final lap, Lagat settled behind Jamal who was setting the pace. In the back straight, Lagat suddenly shifted gears and passed Jamal who tried to respond but did not have a similar gear. Lagat powered on to win the race by nearly 10 metres over the next competitor for a surprise gold medal.
Race Video
Other Medals.
Eliud Kipchoge and Edwin Soi took silver and bronze respectively in the 5000m. Micah Kogo took bronze in the men's 10,000m. Eunice Jepkorir took a silver medal in the women's 3000m steeplechase. Sylvia Kibet and Linet Masai took bronze medals in the women's 5000m and 10,000m respectively. Catherine Ndereba won a silver medal in the women's marathon.