When Sofapaka midfielder Anthony Ekaliani Ndolo was voted as the 2014 Kenya Premier League player of the year, he took the opportunity to sound alarm bells about the fact that football fields on which the youth play are rapidly disappearing. Some are being grabbed by well connected individuals. Once grabbed, the land is used to put up residential or commercial buildings.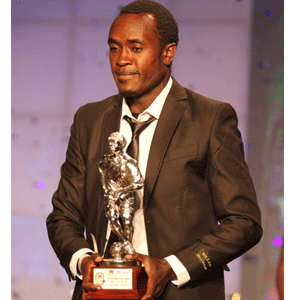 This trend is detrimental to the football fortunes of the country. The football stars of tomorrow develop their skills on these field. Football is a game where in order to be good, you have to constantly sharpen your skills from a young age. The best footballers are those who have been playing almost on a daily basis either in their neighbourhood or at school. It therefore goes without saying that without these fields, you simply will not have good players in the future.
Anyone who grew up in Nairobi during the 1960s, 1970s and 1980s will tell you that there were football fields galore. In those days, whenever a new housing estate was built, it was mandatory to provide community playing fields. This was true even for middle class estates. This was a legacy of the British colonialists who recognized the importance of providing facilities to keep the youth busy in positive activities and away from crime. To this day, most of the playing grounds that are left in Nairobi are those that were created by the colonialists. This includes the famous camp Toyoyo grounds in Jericho that has groomed a significant number of past and present national team players.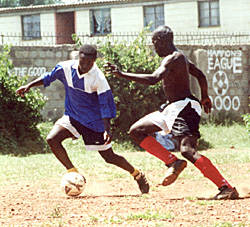 The trend is not limited to community fields. Many schools have seen their fields grabbed by well connected individuals.  Milimani primary school off Ngong road in Nairobi used to have enough land for several football fields. In 1992, a well connected individual at the City council hived off 70% of the land and sold it to developers. The school barely has enough space for one field now. The stolen land is now pccupied by the Watchtower Branch office
Slowly by slowly, these grounds have been grabbed. Every parcel of space that was once a community space has been fenced off and built up. This trend explains why Kenya produced far better players in the 1970s and 1980s.
The national team performed much better back then. Note that Kenya qualified for the Africa cup of nations 3 times in a row in 1988, 1990 and 1992. And to date, Kenya's best performance at the AFCON was in 1972. Kenyan clubs did very well in continental tourneys. AFC Leopards, Tusker and Gor Mahia occasionally reached the semi-finals and finals of continental tourneys and Gor Mahia actually won in 1987. That same year Kenya put on its best ever performance in a continental event when they reached the final of the 4th All Africa games. At a regional level, Kenyan clubs thoroughly and utterly dominated the CECAFA cup. In the 14 years between 1976 and 1990, Kenyan clubs won 11 times out of 14. And this was a time when Zambian, Malawian and Zimbabwean teams were permanent members. Such was the dominance of Kenyan clubs that Gor Mahia and AFC met in the finals when the tournament was held in Malawi in 1980 and Sudan in 1985.
Kenya players were known throughout Africa. Nahashon Oluoch was named as one of the top 10 players in Africa in 1979 when he was still in secondary school. Livinngstone Madegwa achieved similar honours. In 1987, Ambrose Ayoyi and Peter Dawo were also named among the top 10 players in Africa.
The larger point here is that Kenya was producing players of a much higher calibre during this period. And a significant reason why is that during this period, youth growing up in Kenya always had open spaces on which to play and sharpen their skills. Today youth growing up have nowhere to play. If you happen to live in the slums of Kibera or Mathare you will find no space anywhere.
The trend is not limited to Nairobi. Even in smaller towns like Bungoma where Ndolo learned his trade, fields are dissapparing.
"I want to urge our county governments to ensure kids have a place to play. I grew up in Bungoma playing at the Quarters field and Namachanja stadium but all of them are no longer available to the public where kids can play and discover their talents. Bungoma for example does not have any community field as the Posta Grounds was fenced and the Muslim grounds have new residential houses now." said Anthony Ndolo during the awards.
In Europe and North America, football fields are paid for and maintained by city and county councils. The top clubs are given plenty of land on which to build their training facilities for their various age group teams. It comes as no surprise therefore that Europe thoroughly dominates football.
The only high calibre attacker Kenya has produced in the last 10 years is Dennis Oliech. No other Kenyan attacker has succeeded in Europe. The only player who is succeeding in Europe now is Victor Wanyama and he isa defensive midfielder. You cannot build a team around one player who happens to be a defensive midfielder. It should come as no surprise either if Kenya continues to slide down the FIFA rankings and continues to fail to qualify for the Africa cup of nations.
The government should heed Ndolo's warning and reverse the trend of grabbing of community fields and actually build new fields for the country's growing population. Community fields can also serve the more important purpose of keeping youth busy and away from crime, drugs and terrorism.