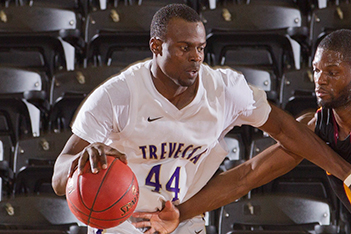 On August of 2014, John Paul Nyadaro was drafted by the Saint John Mill Rats of the National Basketball League of Canada. He was selected with the 5th pick of the second round and was the 13th overall pick. He had earlier been projected as a possible number one overall pick.
As of November 27 2014, he has played four matches with his new team. While still feeling his way through a new league and new system, he has been playing 11 minutes per game. he has taken 10 shots and scored on 6 for an impressive 60% field goal percentage.
Nyadaro is a 6'8″ power forward who is an excellent shot blocker. His ability to run the flow belies his size and is an aggressive finisher around the basket.
John Paul Nyadaro was born in Kisumu in June 1989. He played secondary school basketball for Maseno secondary school. Maseno has a tradition of producing top calibre players including the likes of Brian Oduor, Dennis Miruka, Oliver On'gara and Collins Onyando. At Maseno, Nyadaro apparently averaged 21 points and 17 rebounds per game.  Like the Maseno quartet before him, Nyadaro also proceeded to play college basketball for Trevecca Nazarene University.
Nyadaro also featured for the Kenya U18 team at the 2006 Africa U-18 basketball championships during which the poorly prepared Kenya team lost all their matches heavily to CIV, Nigeria, Guinea and Angola.
Career at Trevecca Nazarene
During his Junior season at Trevecca, Nyadaro played in 34 games, of which 22 were as a starter. That seasonhe averaged 9.1 points and 6.2 rebounds per game, while shooting with 52% accuracy from the floor and 62%  from the free throw line He led the team with 40 blocks as well as 34 steals.
In his senior season, Nyadaro played in 28 games of which he started 27. He was named G-MAC all-conference second team and NCCAA Mid-East all-region honorable mention. He was  selected G-MAC Athlete of the Week (12/10).
He tied the school-record with seven blocks in a game (vs McKendree) became the 39th Trevecca player to surpass the 1000 career point mark His basketball career ended with a total of 1108 points (33rd) 9th overall in rebounding with 727 and 3rd overall in blocks with 124 His also ended his career second in the G-MAC conference in blocks and third in rebounding and field goal percentage
In his senior season he averaged 12.2 points and a team-high 7.1 rebounds per game while shooting 55% from the field and 69% from the foul line . He also had a team-high 38 blocks and added 38 assists and 21 steals.
JP Nyadaro's highlights at Trevecca