One of the most memorable events in the history of Kenyan football was the encounter pitting the then Kenyan champions AFC Leopards against Egyptian giants Al Ahly also known as Nationale. This second round matchup was a tension filled event with plenty of anticipation by AFC Leopards fans.
Background
AFC qualified to represent Kenya in the 1987 Africa champions cup by winning the Kenya national football league in 1986. Except they did not just win the league. They won it in dominant fashion, winning 33 out of 38 matches, drawing 5 and losing no matches. At the end of the season, they had ammased 71 points, 10 points ahead of second placed Gor Mahia and 21 points ahead of third placed Scarlet.
It was a formidable AFC Leopards side that had also won the CECAFA club cup in 1979, 1982, 1983 and 1984. Players like Joe Masiga, Wilberforce Mulamba, Josphat Murila and Mahmoud Abbas had become household names all over East and Central Africa.
And Leopards were the best funded team in Kenya with a wealthy benefactor in Afred Sambu. Also they were the only team in Kenya with a corporate sponsor (Crown Paints).
Al Ahly for their part were the most formidable side in Africa. They had won the Egyptian league in 1985 and 1986 and more importantly had won the Africa cup winners cup in 1984, 1985 and 1986. And when Egypt won the Africa cup of nations in 1986, Al Ahly provided 10 players. The most notable among these was Taher Abou Zeid who had been the top scorer in the FIFA U21 cup in 1981 and top scorer in the Africa nations cup of 1984. Other national team players included Magdy Abdelghani, Hossam Hassan, Mohamed Ramadhan, Rabbie Yassin and goalkeepers Thabet Al Batal and Ahmed Shoubeir. All were well known all over Africa.
The two sides had met earlier in 1981 with Al Ahly winning 3-1 at home and drawing 1-1 in Nairobi. AFC had qualified for the second round by beating Tanzanian champions Maji Maji FC 1-0 at home and 1-0 away. Al Ahly for their part qualfied for the second round by beating Pantheros Noires of Rwanda 5-1 on aggregate.
First Leg
It was always going to be a daunting task for AFC Leopards, playing what was by then the best team in Africa, and playing in front of an intimidating crowd of 100,000 rabid fans. AFC Leopards were completely overwhelmed by the highly experienced and highly technical Egyptians. By halftime the score was 4-0 in favour of Al Ahly, who went on to add two more for a final score of 6-0.
 Match Video
Al Ahly displayed the typical North African technical skills with efficient movement off the ball, pin point passing and accurate finishing. Concepts that were completely foreign in Kenya where a teams performance was typically dependent on a players individual dribbling skills and passing and finishing was innacurate.
After the match, AFC Leopards Welsh coach Graham Williams, while trying to explain the debacle to the media, said that Al Ahly were a far superior team to AFC Leopards. So superior that he thought they could compete against any team in Europe. His remarks angered AFC Leopards chairman Alfred Sambu and Williams was promptly fired. Joe Masiga took over as player coach.
During this period, AFC Leopards had a very strong home record. They sought to strengthen it by playing the return leg at Bukhungu stadium in Kakamega where they thought the fanatical following would help them prevail. Al Ahly arrived in Kakamega several days before the match and trained at Kakamega high school. On match day, the driving rain rendered the playing conditions difficult for the Egyptians. The pitch was drenched in rain water which interefered with their passing game. The drenched field however suited AFC who thrived on long balls and speed down the flanks. Within 20 minutes, AFC Leopards were up 2-0 with both goals coming from Masiga and it looked like they might reverse the first leg score. However Al Ahly gathered themselves and even scored one goal. The final score was 2-1 in favour of AFC Leopards. The final aggregate score was 7-2. But AFC and in particular Joe Masiga had redeemed themselves. Not only did Masiga score twice but he was also responsible for coaching on the field and substituting and inspiring players.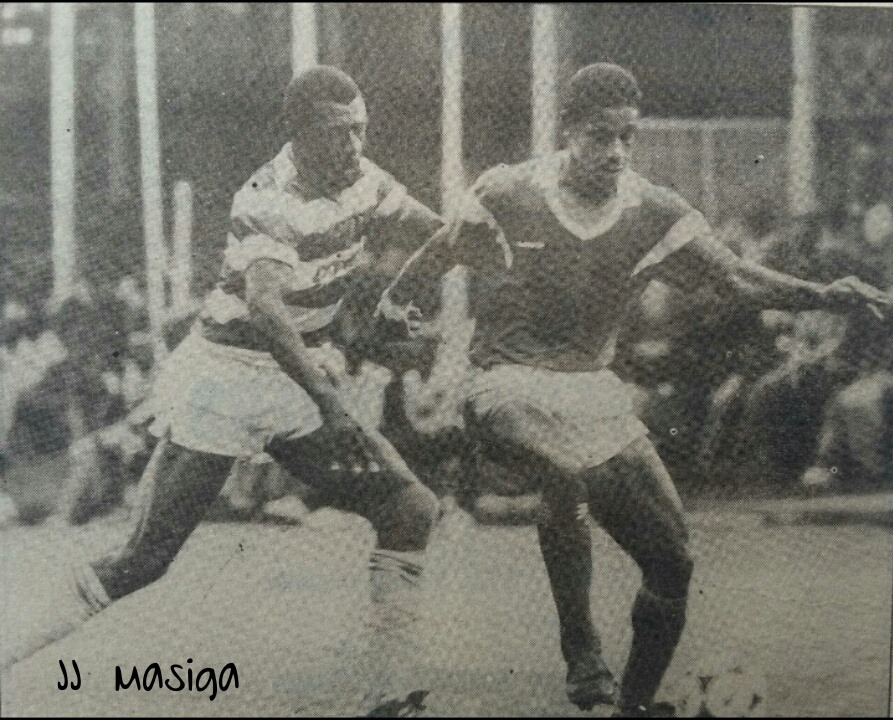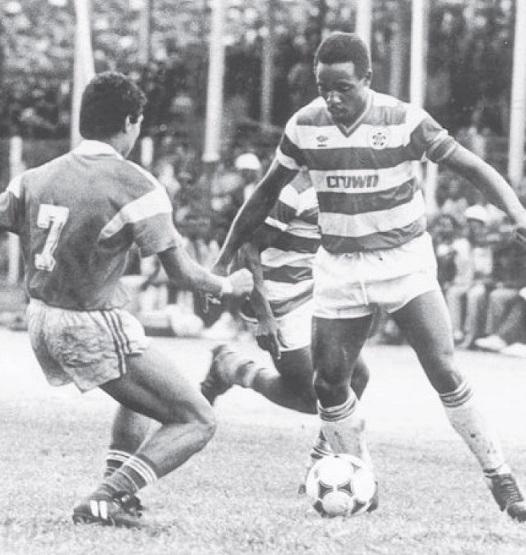 Afterwards, the Zimbabwean referee accused AFC chairman Alfred Sambu of having tried to bribe him. The matter was reported to CAF and Sambu was suspended for two years by CAF. A year earlier Sambu had been accused of bribing players of Gor Mahia AFC before the first leg derby of 1986.
Al Ahly went on to win the Africa champions cup in 1987. The club has won more African club tournaments than any other. They also provided the bulk of the players who won the gold medal at the 1987 All Africa games in Nairobi. Two Al Ahly players: Taher Abou Zeid and Magdy Abdeelghani were voted among the ten best African players. Interestingly, two Kenyan players Peter Dawo and Ambrose Ayoyi were also voted among the ten best African players. It marks the only time two Kenyan players have made this list