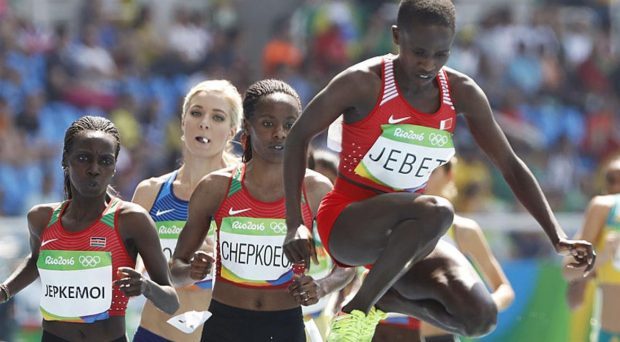 Ruth Jebet, the Kenyan who defected to Bahrain at age 16 is now embroiled in a doping scandal. Although the news has not yet been confirmed, a number of prominent sources have suggested Jebet has tested positive for a performance-enhancing drug, believed to be the blood booster EPO. This according to the Guardian newspaper.
EPO is the same substance that Rita Jeptoo and Jemima Sumgong used and were busted for. They are the most prominent female Kenyan runners.
Jebet's agent Marc Corstjens, said he had not heard any news of a positive tests. "Honestly I am surprised and shocked. I am absolutely not aware of anything. I tried to reach Ruth but her phone is not answering. I have absolutely no official information."
Defection to Bahrain
Jebet defected to Bahrain in 2013 when she was only 16. Kenyan officials were taken aback at the manner she had defected and the fact that she was only 16. It sent alarm bells ringing amongst the Kenyan athletics fraternity who now realized that Bahrain was now coming after Kenyans at a very young age. Two months after changing her allegiance to Bahrain, she won the 3000 metres and the 5000 metres at the Kenyan high school championships
Record Breaking performance and suspicions.
Jebet's performance really started to raise eyebrows in 2016. Prior to thay year, her personal best in the 3000m Steeplechase had been 9:20.55.
Yet at the 2016 Summer Olympics, she became the first Bahraini athlete to win an Olympic gold medal by winning the 3000m steeplechase with a time of 8:59.75 making her the second fastest within the event of all time.
A month later, in Paris, Jebet smashed the 3000 metres steeplechase world record running at 8:52.78. What was shocking about this performance was that it was six seconds faster than the previous record set by the Russian Gulnara Galkina whom many suspect was also doping and was probably part of the recently exposed Russian state sponsored doping program. Also shocking was the fact that Jebet was still in her teens. And finally she had seemingly emerged from nowhere given that her previous personal best had been an unimpressive 9:20.55.
Such a drastic improvement is typically a sign of doping. And coupled with the other three factors mentioned above, it left many athletics fans wondering. Matters went further south when she had a below par 2017 season and finished a poor fifth at the 2017 world athletics championships. Lack of consistency is usually another source of suspicion.
Suspicions cast on all Kenyans.
With another high profile Kenyan busted for doping, the people who hate Kenya's dominance in distance events now have a lot of ammunition. The Guardian article emphasizes that though Jebet defected to Bahrain, she still trains in Kenya. The article also stresses the fact that between 2011 and 2016, forty Kenyan distance runners failed doping tests
What will become of her Olympic gold?
If the IAAF chooses to strip her of her Olympic gold medal, then the gold medal could go to Kenyan runner Hyvin Kiyeng Jepkemoi who finished second. And Beatrice Chepkoech who finished fourth could be promoted to bronze.
When Jebet won the gold medal, she was given a $500,000 bonus by the Bahrani government. A staggering amount that is 50 times what Kenyan athletes received.