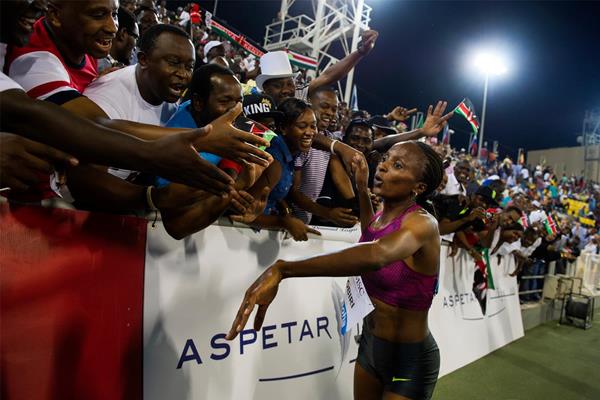 Hellen Onsando Obiri ran a blistering time of 8:20.68 to win the women's 3000m at the Doha Diamond league on Friday May 9. The time is the 5th fastest outdoor time ever ran.
Suspicious records set by Chinese runners
The top four all time fastest times were all run by Chinese runners in September of 1993. Wang Junxia set the world record of 8:06.11. No runner has ever even come close to running that fast outdoors since then. In fact in 1993, Chinese runners, then trained by coach Ma Jun Ren, went on to set incredible world records in every women's distance event (1500m, 3000m, 5000m and 10,000m). All records are still standing today with the exception of the 5000m. Because the Chinese runners appeared out of nowehere, set incredible records, then dissappeared rapidly, it is suspected that they were using undetectable performance enhancing drugs.
Obiri sets new records
Aside from the suspcious times ran by the Chinese in 1993, Obiri's time is the fastest ever ran outdoors. In fact it is the fastest time ever ran outdoors by a non-Chinese runner. In the process she set a new Africa outdoor record and a new Kenya record. The previous Kenyan record was set by Edith Masai in 2002 at 8:23.23. Obiri has done well in this race previously. But On Friday she smashed her personal best by 14 seconds.
Prior to the race, Genzebe Dibaba of Ethiopia was considered the hot favourite. She had set the world indoor records in both the 1500m and 3000m.  Dibaba had the lead at the halfway point. as she went through 1600 in 4:29. With two laps left, seven runners were still in contention despite the 8:30 pace. Everyone expected Dibaba to break away from the field in her typical explosive fashion. But the explosion never came.
On the back-stretch, former world junior Mercy Cherono,  passed Dibaba followed by Obiri. Cherono and Obiri fought hard for the victory but Obiri won with a late burst in 8:20.68. Her last lap was n impressive  61.58.
Obiri and pace-setter Lydia Wafula embraced after the race and both seemed stunned. Was it the winning time? Omwana strong Lydia Wafula lifted Obiri up in the air as both celebrated.
Results