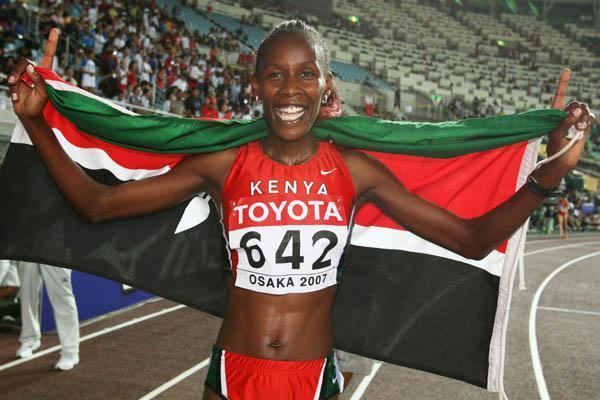 Going into these World Championships, Kenya had lost much of its mystique and prestige as a distance running giant. In 1999 and in 2005, the country had won only one gold medal. While in 2003, only two gold. The period from 1995 to 2005 can best be remembered as the EPO era when Kenyan athletes routinely lost to EPO powered athletes. Out of competition testing for EPO was started in earnest around 2005 when it was approved by WADA. Also in 2007, for the first time, IAAF conducted over 1000 tests. And as a result, Kenya's fortunes changed for the better. The country's performance at the world championships significantly improved. That is not to say that Kenyan athletes do not use EPO. But between 1995 and 2005, Kenya was way behind the curve-ball when it comes to EPO use.
The 2007 World Athletics championships were held in Osaka Japan from August 2 to August 7. Kenya finished second in the medal table with 5 gold, 3 silver and 5 bronze for a total haul of 13 medals. The highest ever by the county. Former Kenyan Bernard Lagat won two gold medals for the USA.
Women's 800m: Majestic Jepkosgei leads from start to finish
Janeth Jepkosgei, Kenya's new sensation, had announced herself by winning the gold medal at the 2006 Commonwealth games. She was considered a contender coming into these championships. However no Kenyan woman had ever won a medal in this event and Mozambican legend Maria Mutola still loomed large with her big game experience.
Whereas many runners would have saved their energy for the finals, Jepkosgei ran hard in all three rounds, leading every race from start to finish. In the semi-finals, she signaled her intentions by running a world leading time of 1:56.17. This installed her as a favourite though many wondered if she had burned all her energy before the final.
In the final, she once again took the lead immediately after the gun. Her majestic stride appeared like a springbok leaping across the savanna and was accentuated by her flowing ponytail. At the bell she had a solid lead. With 250 metres to go, Mutola made her move and things looked ominous because Jepkosgei appeared to be slowing. With 200 metres to go, the Moroccan Hasna Benhassi made her move, passing Mutola and charging at Jepkosgei. Mutola then ran out of steam, unable to match Jepkosgei's pace. Benhassi charged but Jepkosgei found another gear, increasing her lead over the last 50 metres to win in 1:56.04.
It marked the first time a Kenyan woman had won this event. Which is amazing because Kenyan men had excelled in this event for decades.
Race Video
Men's 800m: Yego with a last grasp win
Alfred Kirwa Yego was not Kenya's to contender. That distinction belonged to Wilfred Bungei who had been the fastest and most consistent Kenyan in this event for the previous 4 years. Still when Yego made it the final, he became one of the favourites given Kenya's strong tradition in this event.
The slow pace of the first lap favoured fast finishers like Yego. Abraham Chepkirwok of Uganda appeared to be running away with the gold with 150 metres to go. Gary Reed of Canada caught up with him at the beginning of the final straight. With 100m to go, Yego was a distant third and looked unlikely to win. But his incredible finishing speed enabled him to close the gap and catch Reed at the finish line. Though he did noty lean, he was able to win by a hundredth of a second. He immediately pointed at the scoreboard as if to say that the scoreboard would soon announce him the winner. He was vindicated. He won in 1:47.09, perhaps the slowest in the event's history.
Race Video
Men's Marathon: Luke Kibet gives Kenya a rare win
Prior In the 10 previous World Championships, Kenya had won the men's marathon event only once. This despite Kenyans dominating the various city marathons worldwide. As a result, not much was expected from the Kenyan contingent of five: Luke Kibet, William Kiplagat, Laban Kagika, Laban Kipkemboi and James Macharia. None of them had any experience in big city marathons.
However the hot and humid conditions favoured Kibet. The temperature was 30 degrees celsius with 72% humidity.  Kibet won the race by a significant margin, finishing in 2:15:59, a minute and a half ahead of Richard Yatich who had changed his name to Shami Mubarak after switching allegiance to Bahrain.
Race Video
Women's marathon: Second world championship for Ndereba
Catherine Ndereba had won the world championship in 2003 and a silver medal at the 2005. In 2007, she won her second gold medal. This in addition to her two Olympic silver medals, made her the most successful female marathon runner ever. She won the race in 2:30:37 . fending off Zhou Chunxiu of and crowd favourite, Reiko Tosa of Japan.
Race Video
3000m Steeplechase: Clean sweep for Kenya
Given Kenya's dominance in this event, a clean sweep was not unexpected. Kenyans had thoroughly diominated this event in 2007. The top athlete was another Kenyan Paul Kipsiel Koech who was not at this event.
Brimin Kipruto, Ezekiel Kemboi and Richard Mateelong finished 1-2-3
Race Video