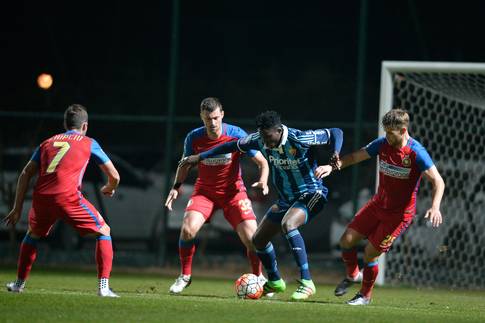 In January of 2016, Michael Olunga left Gor Mahia to attend trials with Swedish side IF Djugarden. It was bound to be a tall order for Olunga as most Kenyan attacking players who attend trials with top tier sides in Europe typically do not make it. And there were many naysayers. Some like Ulinzi coach Robert Matano declared that Sweden was not a good country. According to Matano, Olunga should have sought a more challenging league. As if such opportunities are easily available.
What attracted the Swedish to Olunga was his spectacular goalscoring record: Olunga scored an amazing 38 goals in 2015. But once he was in Sweden for trials, Olunga had to impress them enough to get a contract.
Saying the right things
Olunga was impressive in interviews, always saying exactly what his potential employers were interested in hearing. When asked about his strengths, he stated that he was good at scoring goals, shielding the ball, passing and holding off defenders.The Djugarden officials were impressed
"He made a fantastic impression as a person both on and off the pitch" said Bosse Anderson, an official at Djugarden

Olunga further went on to say that his goal was to eventually reach the English premier league and he was going to work hard to reach that goal. This is important for a club like Djugarden to hear because they can make a lot of money selling Olunga to a bigger club.
His development potential is huge so the peace and quiet of our Djurgården environment he can develop into a striker for the biggest leagues in Europe. It is the goal of Michael himself and he has the characteristics required for it." continued Bosse Anderson

"We are very happy, he has impressed us, he has incredibly good characteristics,ts director.
He has an extreme ability to score, he will go a long way as a footballer, says Bosse Andersson.
Anderson is also impressed with Olunga's personal motivation.
"He has huge potential, he has high standards for himself. It will be a pleasure to work with the engineer. We have had a good dialogue with his club (Liberty Academy ). This is a long-term solution, it is important that he gets to feel safe with us, says Bosse Andersson.
Technical Skills
Throughout his career, Olunga has not just relied on his raw talent. He is a thinking man on the field. He times his runs perfectly, being in the right place atthe right time. He has an uncanny ability to anticipate where the ball is going to be.
He is an accurate finisher and has poisein front of goal. Even more important is that he can finish with either foot. This is unlike many Kenyan strikers who can only shoot with one foot. Olunga is also an excellent passer with either foot. And his headings skills are well above average.
These are the kind of skills that a player must have in order to impress European talent scouts