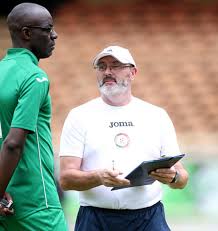 The East African Standard recently announced that Harambee Stars coach Bobby Williamson is paid a monthly salary of Ksh 2.5 million per month. This is equivalent to US $ 23726.05 per month. This is a staggering amount by any standards. To put things in perspective, Williamson makes more than at least three of the coaches at the 2014 world cup, Miguel Herrera of Mexico, James Appiah of Ghana and Niko Kovacs of Croatia.
Yet these were coaches who had steered their respective teams to world cup qualification. Many Kenya fans have complained that Williamson does not deserve such a massive pay packet. Former national team coach and now Bandari coach Twahir Muhiddin is among those who think Willliamson is not worthy of such remuneration.
Rick Solomon "Tolle", a former national team player and now long serving football official also added his voice to the naysayers.
Owing to the fact that the team is performing poorly, Solomon says, the salary should be reviewed though he also pointed out that he (Williamson) is not entirely to blame for the poor showing.
"If you look at the team's performance since Williamson joined, it has not been good but then again he is not entirely to blame. It is not possible for him to do well with poor preparation," he pointed out.
But in a quick rejoinder, FKF Chairman Sam Nyamweya defended Williamson's large salary.
"He deserves the pay and let us not forget the fact that he has had salary arrears for long. In our opinion, he has done well considering the circumstances he was working under," Mr Nyamweya said.
Nyamweya  believes the coach can still steer the national team to the 2017 Africa Cup of Nations finals.
"We still have a chance of featuring in the finals despite losing to Zambia. We just need to be focused and work hard on this," he said.
Misplaced priorities
Certainly Williamson is not to blame for Kenya's poor performance. After all Kenya has been performing poorly for the past 12 years or so. The last time the national team excited the public was in 2003 when a sensational Dennis Oliech steered the team to a CECAFA challenge cup win in Tanzania and to qualification for the 2004 Africa nations cup. Since then it has been one futile campaign for another.
Williamson himself noted that Zambia who recently beat Kenya, had higher quality strikers. The calibre of players that Kenya currently has will not cut it. The reason Kenya does not have enough high calibre players is due to lack of structured youth development.
Because Youth development is basically non-existent, young Kenyan players are not developing tactically and technically. Kenya often does not even enter Under-20 or Under-17 tournaments, unlike countries like Zambia which are regular participants. Without youth teams to act as feeder teams for the national teams, Kenya will continue to lag behind.
Rather than spend Ksh 2.5 million on a coach, the government would be better off injecting more money into youth development programs thart identify talented youth at the grassroots and puts them ins tructured youth development programs.
Unfortunately both FKF and the government think that spending money on expensive coaches is the solution to Kenya's poor performance. The reality is that there is no shortcut to success. If Kenya does not invest in youth development then Harambee stars is doomed to endless mediocrity.