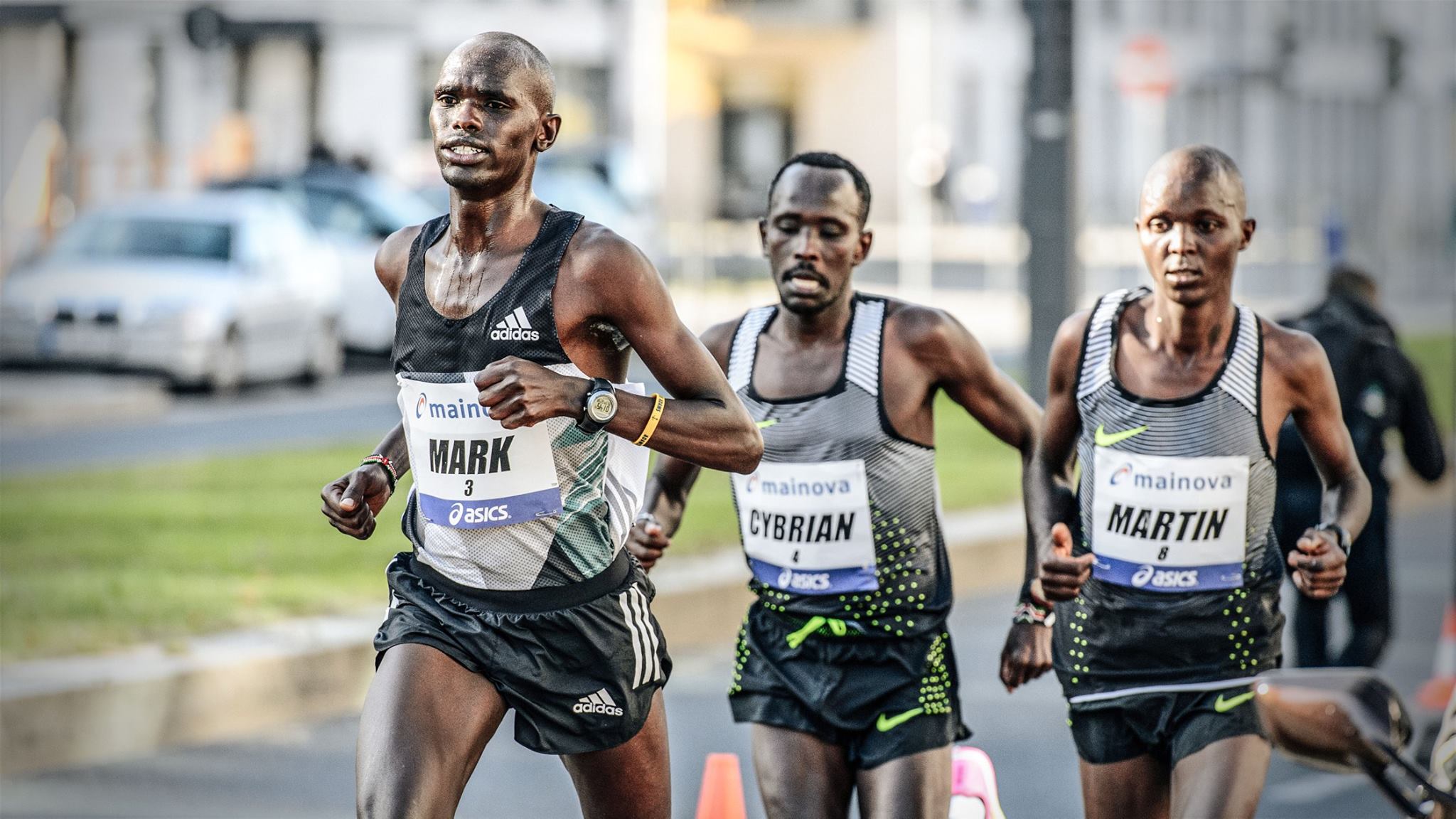 It was a decisive win for Mark Korir in the 2016 Frankfurt Marathon. Korir won in 2:06:48, well ahead of compatriots Martin Kosgey and Cyprian Kotut who finished second and third respectively.
Korir, who won the 2015 Paris Marathon, made his move at the 35km mark and no one had a response.
"When the pace dropped after 35-k I put the pressure on – and won," said Korir, who's 2:06:48 performance was the year's eighth fastest. "After having to drop out in the Paris Marathon this spring I was very disappointed. I wanted to redeem myself and I really enjoyed this race." he said.
Korir also participated in the 2015 world championships, finishing 22nd.
Results
Men
1 3 Korir, Mark (KEN) M  2:06:48
2 8 Kosgey, Martin Kiprugut (KEN) M – 2:07:22
3 4 Kotut, Cybrian Kimurgor (KEN) M – 2:07:28
4 9 Curtis, Robert Mark (USA) 30 –  2:11:20
5 2 Woldegeberel, Tadesse Tola (ETH) M –  2:11:52
6 6 Achamie, Birhanu Addisie (ETH) U23 –  2:12:19
7 5 Gebretsadik, Weldu Negash (NOR) 30 –  2:12:20
8 11 Naert, Koen (BEL) M –  2:12:27
9 12 Masai, Moses Ndiema (KEN) 30 –  2:13:23
10 15 Cuneaz, Rene (ITA) M –  2:15:32
Women
1 F3 Molisa, Mamitu Daska (ETH) 30  2:25:27
2 F7 Tola, Fate (GER) WF  2:25:42
3 F5 Jebet, Sarah (KEN) 30  2:27:07
4 F23 Flanagan, Lindsay Marie (USA) WF   2:29:28
5 F20 Purdue, Charlotte Lucy (GBR) WF   2:30:04
6 F21 Strähl, Martina (SUI) WF  2:30:58
7 F9 Tola, Helen Bekele (ETH) 30  2:31:27
8 F10 Stockhecke, Mona (GER) 30  2:31:30
9 F26 Barlow, Tracy (GBR) 30 –  2:32:05
10 F25 Vilcinskaite, Milda (LIT) WF –   2:34:48