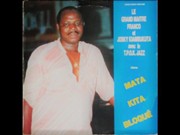 Introduction to Minzata
The song Minzata is from the 1987 album "Franco Presente Josky Kiambukuta". It was recorded in Brussels after Josky was convinced by Franco to return to TPOK Jazz. Josky had left the band in 1986 and recorded a number of albums with Ntesa Dalienst, Serge Kiambukuta and Esperant Kisangani
Upon his return, Franco rewarded Josky with his own album within the TPOK Jazz setup. In addition to Minzata, the song also featured the classic disco hit Kita Mata Bloque as well as a rendition of Josky's early 1980s hit "Tokabola Sentiment" which was now known as "Osilisi Ngai Mayele". All three songs are about the problems of love, a common theme for Josky.
This particular song "Minzata" is about a man whom after several years of marriage,  has just deserted the marriage to live with a girl on the pretext that his wife no longer appreciates him. The wife denounces the action of the husband. She asks how could the man leave her after making her have so many children, in addition to doing all the housework. She expresses her feelings of suffering and finally in a defiant mode decides that she is abandoning the marriage as well.
Aside from Josky, there are lyrics by Madilu System and Malage de Lugendo.
Song Video
Translation and Lyrics