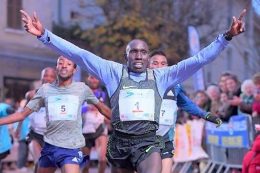 Cornelius Kangogo clocked 28:19 to win the 45th Corrida Pedestre Internationale de Houilles 10km, an IAAF Bronze Label Road Race, on Sunday December 18. Kangogo, who is 23, has now won the race three times, equalling fellow Kenyan Micah Kogo.
The race ended with a ferocious battle over the last 300 metres as 5 runners vied for the podium. Kangogo proved to have the most horsepower left and just as he did last year, winning in a blanket finish. Only one second seperated the 5 leaders.
Men's Results
1. Cornelius Kangogo (KEN) 28:19
2. Jemal Yimer Mekonnen (ETH) 28:19
3. Al Mahjoud Dazza (BRN) 28:19
4. Thierry Ndikumwenayo (BDI) 28 :19
5. Dawit Fikadu (ETH) 28 :20
6. Julien Wanders (SUI) 28:22
Kibiwott breaks course record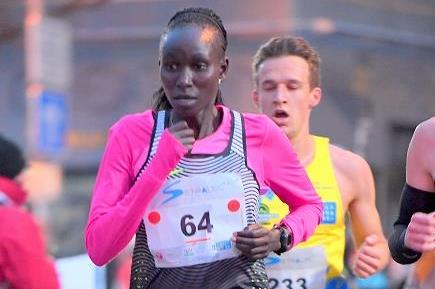 Viola Kibiwott who is known mostly as a miler, had a glorious debut as a 10K runner when she broke the course record. And she did so in dominant fashion, finishing over 30 seconds ahead of second placed finisher, Katrina Wooton.
Kibiwott competed at the 2015 world championships, finishing 4th in the 5000m. She competed at the world championships of 2009 and 2011 as well as the 2008 Olympics in the 1500m. Each time she did not go beyond the semi-finals. She won the gold medals at the 2000 and 2001 world cross country championships junior race.
WOMEN Results
1. Viola Jelegat Kibiwot (KEN) 31:14
2. Katrina Wooton (GBR) 31:47
3. Carolyn Jepkosgei (KEN) 32:54