Chaos in the sevens setup
Kenya recorded a poor performance in the 2014-2015 IRB sevens series, settling for Bowl or Shield in all tournaments with the exception of Wellington where they reached the Plate semis. In the end, Kenya finished 13th and barely avoided relegation. There was player unrest due to non-payment of salaries. At one point the players went three months without their salaries. In the end, the entire technical bench was relieved of their duties including head coach Felix Ochieng, assistant coach Vuyo Zangqa from South Africa and conditioning coach Graham Bentz from New Zealand.
Kenya Records historic wins over Portugal and Spain
In July of 2015, Kenya hosted European sides Spain and Portugal. It marked the first time Kenya had hosted a European national side in a full test match. Kenya acquitted itself well, matching the massive European forward packs while overwhelming them with back-line speed. Kenya were very good with ball in hand while running in the open field. In the end Kenya recorded impressive victories, winning 37-26 and 41-15 of Spain and Portugal respectively.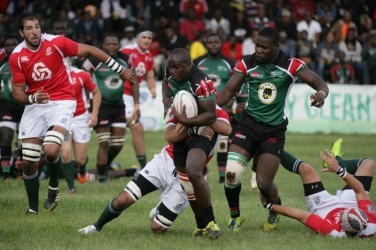 Second String Kenya loses Elgon Cup for men
With the first team busy preparing for the Africa cup, Kenya opted to field a second string side against Uganda in the Elgon cup.
The Kenya National 15s second string rugby team went into the match in Kampala with a 20-17 advantage in aggregate from their first game, but lost 30-25 to the hosts in the return leg to lose at an overall score of 47-45.
Kenya women edge Uganda to win Elgon cup
The Kenya women for their part continued to underline their dominance over their Ugandan counterparts. After drawing the first leg 5-5 in Nairobi, Kenya edged Uganda 7-6 in Kampala. Kenya had come a long way from the side that lost 27-0 to Uganda in 2006. Since then, Kenya had
Africa Cup 2015
Between the months of June and August, Kenya played in the Africa Cup division 1A which is the top rugby division in Africa. Other participants were Namibia, Zimbabwe and Tunisia. Namibia were enroute to the 2015 rugby world cup and thus were better prepared than other teams both in terms of conditioning and tactically. It showed as Kenya lost 46-13 to the Namibians in Windhoek. Kenya had also lost 28-20 to Zimbabwe in Harare before recording a 46-15 win over Tunisia in Nairobi, which helped them stave off relegation.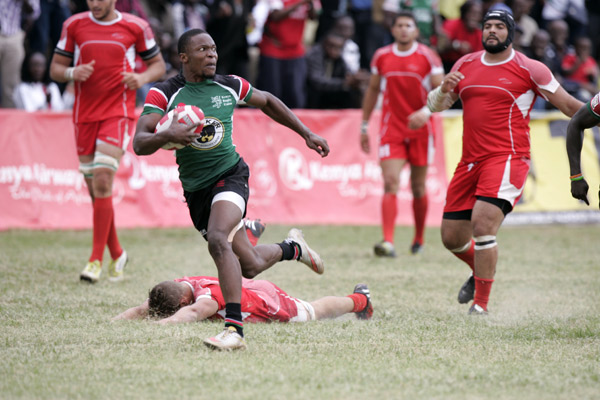 Kenya Qualifies for 2016 Olympics in dramatic fashion
The qualifiers for the 2016 Olympics to be held in Rio de Janeiro Brazil were held in Johanesburg South Africa. It was the first assignment for newly re-appointed coach Benjamin Ayimba who had taken over from Felix Ochieng.
Kenya eased their way through pool play with wins over Mauritius (50-5), Senegal (27-0), Madagascar (46-0). In the quarter Kenya beat Madagascar 41-0. In the semis they dispatched Tunisia 42-12, thus setting up a final with Zimbabwe who had an equally impressive run ti the finals.
In the finals, Kenya opened the scoring through skipper Andrew Amonde before Zimbabwe replied with two tries and a conversion for a 12-7 half time lead. Kenya regained the lead through a converted try scored by Collins Injera and with a minute to go. Zimbabwe then intercepted an errant Kenya pass and scored a try to put the scores at 17-14. The hooter sounded with Zimbabwe leading and Kenya appeared dead and buried. Upon kickoff. the ball was fielded well by the Kenyan winger. It found its way to Dennis "Ghost Worker" Ombachi who embarked on a 50 metre run, fending off tackles and rounding defenders until he scored the all important try that gave Kenya a 19-17 win and sealed Kenya's place at the Olympics.
Kenya Women's sevens gets a reprieve and goes to the Olympics
The Kenya women's sevens side  (Lioness) also participated in the qualifiers for the 2016 Olympics for women that were also played in South Africa.  Kenya performed exceptionally well. They topped their group by registering wins as follows:  .
 Kenya 46-7  Botswana
 Tunisia 15-12  Madagascar
 Kenya 52-0  Senegal
 Tunisia 47-0  Botswana
 Madagascar 14-5  Senegal
 Kenya 19 -7  Tunisia
 Madagascar 43-7  Botswana
 Tunisia 40-0  Senegal
 Kenya 33-0  Madagascar
 Senegal 32-0  Botswana
In the semis, Kenya thrashed Zimbabwe 39-0. However in the final they lost to South Africa 31-5. Kenya got a reprieve when the South Africa Olympic Organization withdrew the women's sevens team thus opening the way for Kenya to participate.