Humphrey Kayange is Kenya's most complete and most accomplished sevens rugby player and to date the most successful captain of the Kenya sevens rugby team.
When Legendary New Zealand coach Gordon Tietjens was asked to name his ideal sevens team, he included Kayange: Quite an achievement considering that Tietjens has coached many of the best sevens players ever.
The 6 foot 6 inch Kayange has amazing foot speed and very good balance for a player of that height and is very difficult to stop. He has a innate ability to take the right running angle to receive the ball which allows him to run into open spaces resulting in plenty of tries. His elusiveness makes him difficult to stop once in full flight. These qualities enabled him to score 129 IRB sevens series tries as of 2012.
His height makes him a very useful player in line-outs and in retrieving kickoffs. His work rate on and off the ball, in line-outs, rucks and on defense is of the highest level.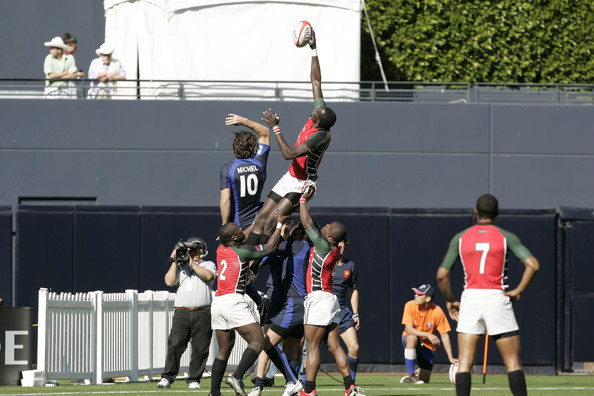 2009: A season to remember
Kayange was the captain of the Kenya team in 2009 when the team reached the semi finals of the world cup. During the 2009-2010 season, Kayange was the 3rd leading scorer in the IRB sevens series with 33 tries. That year Kenya finished 6th overall in the IRB sevens series which was Kenya's best finish ever up to that point. Kayange was nominated for IRB sevens player of the year.
In 2010 he was awarded the presidential Order of Golden Warriors (OGW) alongside his brother Collins Injera, for their performance in the 2008/2009 IRB world series.
English Sevens Circuit.
Following Kayange and Injera's stellar performances in 2009 and 2010, they were invited to play for Samurai International RFC in the United Kingdom sevens circuit.
He inspired Samurai International to their second consecutive title when they halted London Irish's Middlesex Sevens title defence. Before helping Samurai to their maiden Middlesex victory, the brothers had the other week steered their side to victory at Wales Sevens with Kayange being declared "man of the tournament.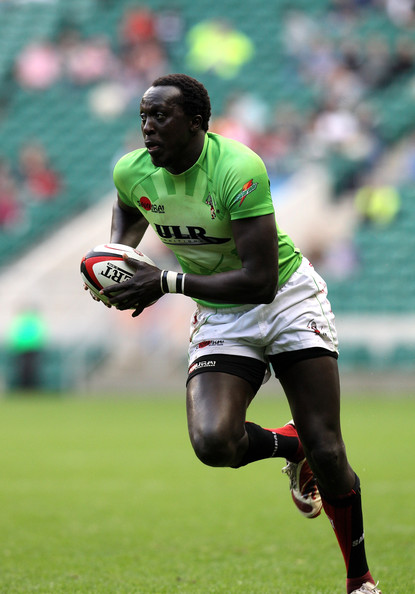 School and club career.
Kayange attended Kakamega high school (popularly known as "Katch") which in the 1990s and early millenium, produced more national team players than any other school. Other "Katch" products from that era who played for the national sevens team included Dennis Mwanja, Oscar Osir and Allan Makaka.
He first played for Ulinzi RFC, the military team. When Ulinzi RFC was disbanded, he joined Mwamba. At Mwamba he teamed up with several other national team players including his younger brother Collins Injera, Horace Otieno and Lavin Asego to form a formidable Mwamba lineup which easily won the local sevens circuit.
Following his exploits on the local scene, Kayange was selected to play for the Kenya national sevens team for the first time in 2005 under former coaches Bill Githinji and Gordon Anampiu. He immediately stamped his place as one of the key players on the team.
Kayange has also made several appearances for the national fifteens where he mostly played as inside centre.
IRB ambassador
When the international rugby board was bidding for rugby to be included in the 2016 Olympics, Kayange was part of the bid team that gave presentations to the IOC. There he worked alongside legends like Jonah Lomu of New Zealand and Augustin Pichot of Argentina.
In November 2010, Kayange unveiled as the new IRB 'Keep Rugby Clean' ambassador for the Sevens game and IRB's top anti-doping spokes-person.
Bristol University
In 2011, Kayange was offered a scholarship to pursue a graduate degree in Chemistry at Bristol University in the United Kingdom. At Bristol, Kayange also played for the University rugby team.
In February of 2012, he made his debut for the Bristol University fifteen a side rugby team in a match against Leeds. He has just arrived from Las Vegas where he led Kenya to a plate final win over Argentina. Despite playing out of position in the second row, Kayange scored with his first touch of the ball to lead Bristol to victory.
While a student at Bristol, Kayange has continued to make occasional appearances for Kenya in the IRB sevens series.
RWC 2013
Kayange returned to the Kenya sevens team right before the 2013 world cup. He had missed most of the 2013 IRB season. He seemed to come back faster, better and more energetic. His newfound ability to exploit tiny gaps provided by the opposition saw him score six tries and finish second in the try scoring charts, only one try behind the tournaments leading scorer.
2014 Commonwealth Games
Kayange returned to play in the 2014 Commonwealth games in Glasgow. After picking up an injury, he was abandoned by both the KRFU and the Kenya Olympic Committee who both pointed fingers at each other when it came to paying his medical bills. Eventually the government stepped in and paid the bills.