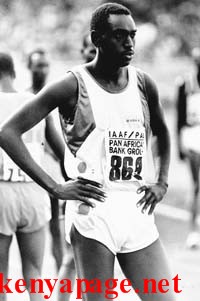 Billy Konchellah is one of the greatest 800m runners in the history of the event, The highlights of his career include winning two world championship gold medals and an All African games gold medal, all while battling athma and tuber-culosis.
Billy Komintai Konchellah was born on 20 October 1961 in Kilgoris, in Kenya's Rift Valley province. Konchellah grew up in Woodley estate, Nairobi and attended Jamhuri primary and Upper Hill school in Nairobi. It was here that his running talents came to the fore. By age 18 in 1979, the prodigously talented Konchellah had already established himself as one of the best sprinters on the continent and one of the best in the world. At age 18, he ran the 400m in 45.38 seconds and won a bronze medal at the 400m in the 1979 Africa Athletics championships.
He earned an athletic scholarship to the United States where he attended the University of New Mexico, Alberqueque. Its worth noting that Konchellah's time in the 400m while aged 18 (45.38) is still one of the best times ever for that age group. Had he stuck to the 400m, he may well have become one of the best 400m runners ever. While in New Mexico, his coach switched him from the 400m to the 800m. In the USA, he graduated with a degree in Business Administration.
In 1984 he qualified for the Olympics and made it to the final. He came within a whisker of winning a medal, finishing fourth behind legends Joaquim Cruz and Sebastian Coe. It was a harbinger of things to come. In 1987, he won the 800m at the 4th All Africa games in front of an appreciative home crowd, completing a Kenya 1-2 with Stephen Ole Marai. 3 weeks later he put his name on the world map when he won the 800m at the 1987 World Championships. It was unexpected considering that 4 years earlier, Kenya had not won any medals at that event. His time of 1:43.07 was still a championship record as of 2012.
Due to being limited by asthma and tuber-culosis. he was not able to qualify for the Olympics if 1988 and 1992. However in 1991 he won the world championships yet again with a superb come from behind run. Konchellah was best known for his powerful yet smooth finishing kick. He would spend the first lap running behind the pack before making his move with 200m to go, using his sprinter speed and endurance to blow past hapless opponents. At the 1991 world championships, he was at least 10m behind the leader (Jose Barbosa) with 100m to go but then unleashed his trademark finishing kick to finish two strides ahead of Barbosa. Konchellah was also famous for having a smooth easy running style that made him look like he was simply gliding.
He made his last world attempt at the 1993 world championships. This time his late kick was not enough to earn him gold. He won the bronze medal. In an interview many years later he said he lost focus due to his fathers death which had occured recently. And in the final his lack of focus caused him to mistime his finishing kick. The gold medal was won by another surprise Kenyan, Paul Ruto.
Another notable anectdote is the Konchellah was the pacer for Sebastian Coe when Coe broke the world record over the 800m in 1981.
Konchellah continued to run until the late 90s. His son Gregory Konchellah was an accomplished 800m runner who later switched his allegiance to Bahrain and became Yousouf Saad Kamel. His younger brother, Patrick Konchellah was an acomplished 800m runner as well. He won the gold medal at the 1994 Commonwealth games.