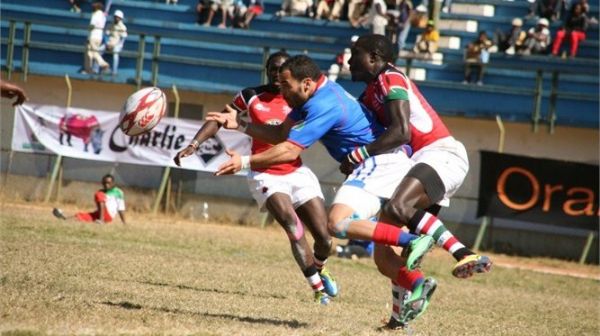 Kenya recorded what is perhaps the biggest win in its rugby history when they beat Namibia 29-22 in a crucial rugby world cup qualifier. It was the opening match of the CAR Division-1A which also doubles as the final qualifiers for the 2015 rugby world cup.
The win is momentous for several reasons. Firstly, Namibia has a much stronger rugby tradition than Kenya. They were ranked number 22 in the world, far ahead of Kenya which is ranked number 34.
Past matches played between Kenya and Namibia have often been lopsided. The only times Kenya beat Namibia was in matches played in Kenya where the outcome of the match was not crucial. In those instances, Namibia did not send all their best players. Such was the case when Kenya beat Namibia for the first time ever in 2006. The score was 30-26 and is the only time Kenya had ever beaten Namibia.
Meanwhile Namibia had beaten Kenya 5 times often with lopsided scores. The graphic below displays results of matches between Kenya and Namibia with Namibia victories marked in red.

The very first time these two teams was in 1993 at the RFUEA grounds. The 60-9 score actually flattered Kenya. Namibia could have scored a lot more points had they tried. But toward the end of the game, Namibia passed up opportunities to score tries and kick penalties.
The worst loss to Namibia came in 2006 in the return leg for the 2007 rugby world cup qualifiers. During the return leg in Windhoek, Namibia now had a full complement of players and beat Kenya 84-12 with winger Oscar Osir scoring both Kenya's consolation tries.
For years the gap between Kenya and Namibia in rugby was massive and looked insurmountable. However Kenya has been steadily improving and in the past 2 years has taken massive leaps. Even when Kenya lost to Namibia in Windhoek last year by a score of 55-35, it was readily apparent that the gap was closing fast. Kenya pushed Namibia all the way in that game. But as is often the case, home ground advantage helps.
This Saturday's match in Madagascar was thus going to be a true test of how far Kenya since the game was to be played in a neutral site and Namibia were sending their best players and had been under intense preparations including friendly matches against twp South African sides, Western Province and Blue Bulls.
Beating Namibia 29-22 when the stakes are this high shows that Kenya rugby has finally arrived. When Kenya won the African championships in past years, it seemed like an incomplete victory since Namibia did not participate. This was the case even last year when Kenya beat Uganda 51-11 and Zimbabwe 29-17.
However despite this momentous win, Kenya cannot rest on its laurels. There are still two big games to play.
The match
Namibia raced into a 12-0 thanks to two tries from left wing Heinrich Smit and a conversion from Willem Kotze.
But Kenya took advantage of prop Jaco Engels' yellow card on 38 minutes to score a converted try on the stroke of half-time through one of their Rugby Sevens contingent, Humphrey Khayange.
Kenya scored a further 12 points while Namibia were a man down, flanker Michael Okombe being joined on the scoresheet by scrum half Edward Achayo. With Lavin Asego landing his second conversion Kenya found themselves 19-12 up with the second half six minutes old.
However Namibia hit back to level the scores when full back Chrysander Botha scored a try that Kotze converted.
Kotze and his opposite number Asego then traded penalties before Sevens skipper Andrew Amonde came off the bench to score the match winner with 16 minutes to go.
Additional reporting courtesy of boxscore.com