Kenya finished 3rd at the 2012 Africa U19 rugby championships that were held in Harare Zimbabwe during the last week of August. In the opening match, Kenya came within a whisker of beating hosts and defending champions Zimbabwe. With 10 minutes left, they led 10-6, only for Zim to score a last gasp try. In the second match, Kenya were comprehensively beaten 39-11 by a Namibia team whose pack was so massive and well drilled that Kenya had no answers. In the final match, Kenya beat Tunisia 22-10 , thus avoiding relegation.
All in all it was a creditable performance by Kenya coming after Kenya had qualified for the top tier during the 2011 competition.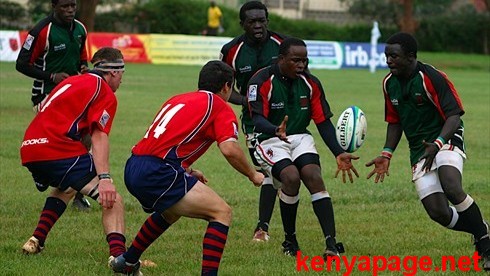 Namibia won all their matches convicingly to wrestle the title from Zimbabwe who had won this tournament 3 times in a row. In addition to their win over Kenya, they beat Zimbabwe 44-23. They will now represent Africa at the next IRB U-19 competition.
For Nambia, the win was no fluke. For all their management problems, Namibia have youth structures that simply put Kenya to shame. There are youth teams and tournaments for U-11, U-13, U-14, U-15, U-16 and U-18. Each of these teams have decent facilities and well qualified coaches who drill their players using age appropriate exercises. . Namibian players thus start learning proper fundamentals as early as age 10. They keep building on their skills as they progress through the age groups. Coaches identify each players weakness and correct them at an early age when learning is easier. Bad habits are eliminated early on. And more importantly the player develops a passion for rugby at a very early age, thus making it more likely that he will pursue the game in adulthood.
Contrast this with the situation in Kenya where players typically dont start playing rugby until age 15 when they reach form 1. And when they do they often do not receive proper instruction. Many schools dont even have a coach at all. And where a coach exists, he is poorly qualified to train the players.  It is no wonder that by the time a player leaves form 4 and pursues club rugby, they often have poor rugby skills, do not understand positioning and have picked up too many bad habits.
Namibian and Zimbabwean youth teams at U-13, U-16 and U-19 levels have been participating in the Craven week tournament for the past few years. Craven week is held annually in South Africa and is the most popular and possibly the highest quality domestic youth tournament in the world. Namibian and Zimbabwean players thus get an opportunity to measure themselves against the very best at an early age.
Excited Namibian coach Jood Opperman was effusive in his praise for the Namibian rugby Union. "We were very well prepared for this match and I believe we deserved to win it as we had trained well this time around".
With such good structures, it is no wonder that Namibia produces more high calibre players despite having far fewer players to choose from. According to the IRB website, Kenya has 68 clubs and 43291 players. Namibia on the other hand has only 27 clubs and 14226 players. In fact the number of rugby players in Kenya dwarfs every other African country except South Africa. Credit goes to the KRFU and other parties for spreading rugby all over the country. However, without proper youth structures, Kenya may have a high number of rugby players countrywide. But virtually all these players are low caliber players with poor rugby skills, thus reducing their chances of qualifying for the world cup.