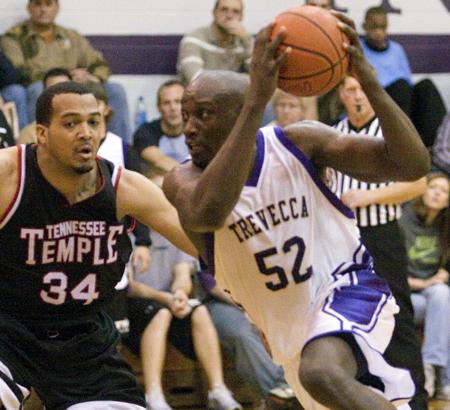 Collins Onyando is a 6'5″ Kenyan basketball player who earned NAIA All America honors as a standout player for Trevecca College.
Onyando is a native of Kisumu City. The lakeside City has over the years been a rich basketball goldmine producing many of Kenya's top basketball players.
Collins Onyando joined Maseno secondary school in 2002, having transferred from Kisumu Boys. He led to Maseno to the national schools title in 2002. At Maseno he played alongside Brian Oduor. Both Onyando and Oduor went on to earn basketball scholarships to the United States. While at Maseno, Onyando was part of the Maseno school team that won the Engen Africa Youth Challenge Cup in Durban , beating the South Africa U18 team 71-55 in the final. In the national school games of 2003, Onyando steered Maseno to reach the national finals but lost to St Austins in the final. They earned a measure of revenge when they beat St Austins on their way to winning at the East African school games basketball title with Onyando playing a pivotal role.
After a stellar playing career at Maseno secondary school, Onyando was offered a scholarship to play basketball in the United States. He joined Trevecca college for the 2004-2005 season.
On joining Trevecca His impact. In 2005 he was named TranSouth Freshman of the Year. He impressed with his rebouding, shot blocking and ability to finish at the rim.
During the 2006-2007 season, Onyando earned NAIA All America honors in the honorable mention category after averaging 12 points per game . 2007 was indeed his best year. That was the year he led Trevecca in in rebounding, assists, and blocks and is in the top three in points and steals. He also broke the schools career shot blocking record.
In the 2007-2008 season his senior season, Onyando averaged 11.3 points and 7.7 rebounds per game. He finished his career with 224 career blocks which was a Trevecca school record.