Kenya's below par performance at the 2012 Olympics was simply the latest in a series of disappointing performances in various sports. The national football team Harambee stars has been performing dismally as has every other football team. At the 2011 All Africa games, Kenya's performance with 14 gold medals was nothing to write home about. Most dissapointing was boxing where Kenya won only one bronze medal. A far cry from 1987 when Kenya won 8 gold medals. In fact , sports where Kenya typically used to win medals at global events have all fallen by the wayside. Only athletics has stood firm yet at the 2012 Olympics, even athletics fell foul to poor management and poor oversight from the sports ministry.
10 years later, the sports policy paper is in limbo
The Kenya Sports Policy was produced in 2002. The Policy framework is intended to streamline and harmonize all aspects of sports by acting as a reference and guideline by outlining procedures in planning, organizational and management of sports. Sports is an industry that should be able to regulate itself with the Government only acting as a catalyst".
If implemented it could be the catalyst to ensure that sports associations are manned by accoutable people who are knowledgable about sports management and are held responsible for failure.It will give the ministry of sports the ability to crack down on corruption and incompetence in the management of sports.
It has never been implemented however because each succesive sports minister has discussed it at length but never implemented it. Francis Nyenze, Ochillo Ayako, Helen Sambili and now Paul Otuoma have all sat on this document and never gotten passed in parliament.
And our parliamentarians have not shown desire to debate and pass this critical policy that is of huge benefit to the Kenyan youth. This is in starke contrast to the eagerness with which they pass proposals that benefit them.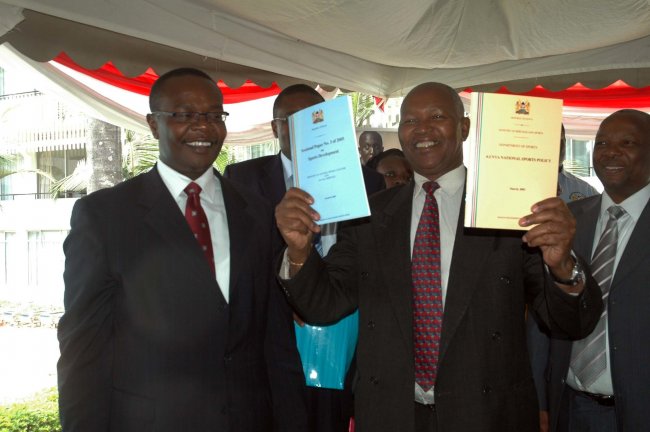 Politicians only pay lip service to sports.
Politicians are quick to spend money on projects that benefit themselves. Just recently the MPs moved to a new ksh 920 million parliament building. Meanwhile the sports facilties that are supposed to be used to nurture Kenya's next crop of Olympians lay in ruin. Most Kenyan stadia were built by the colonialists. Most are poorly maintained due to lack of funding. Since 1963 only two new stadia have been built, Nyayo stadium and Kasarani, both built by the Moi government in the mid 1980s.
It is only around election time that the politicians pretend to show an interest in helping develop sports in the country.
Playgrounds in major towns which were meant for youth have been grabbed and distributed to well connected individuals. There are very few  grounds for sports such as basketball and volleyball fields in Nairobi and other major towns.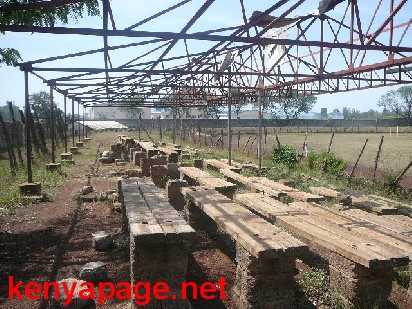 What politicians do not seem to realize is that sports can be a good catalyst for providing employment to Kenyans. Its not just the sportsmen that can earn a living but also coaches, journalists, trainers and in cases where an athlete makes enough money, he can employ other Kenyans.
In addition, building sports facilities all over the country will keep the youth in gainful activity and keep them from crime. The youth unemployment rate is 60% which means there are 10 million unemployed youth in Kenya. Why not build sports facilities, and playing grounds to keep them busy and away from crime and drugs ?
And politicians like to ride the coat-tails of Kenya's sports heros while they do nothing to help develop the sport.
Olympic Shambles could have been prevented
Kenya's Olympic performance was derailed by the arrogance and corruption of officials. Kenyan athletes were demoralized by self seeking officials. According to the Daily Nation, There was a near riot when the athletics programme was about to begin when some of the elite athletes, including double world champion Vivian Cheruiyot, gave NOCK assistant secretary Stephen arap Soi a dressing down over how he handled them.
Arap Soi and team manager James Chacha were the ring leaders in demoralizing the Kenyan contingent with their high. Vivian Cheruiyot one of Kenya's best medal hopefuls was perhaps the biggest victim. Upon arrival at the Olympic Village from Nairobi, Cheruiyot waited for four hours before getting her accreditation papers and cried as her husband who is also her coach was barred from the athletes village by Soi's team.
Proper oversight from the ministry of sports would have helped ensure that competent officials are in charge.
Joyriders and misplaced priorities
At every competition, many Kenyan officials manage to wriggle their way into the games contingents despite the fact that they have no defined roles. The 2012 London games were no different. There were over 30 government officials each being paid a dailly allowance of ksh 25,000 per day for a minimum of 40 days. This is something that the minister for sports could have easily prevented, knowing fully well that it always happened.
The money spent on these joyriding officials could have been spent other projects. Kenya is badly in need of structured youth development projects that are geared towards producing world class sportsmen. This again falls on the sports minister, Paul Otuoma.
The issue of joyriding and the attendant wastage of tax payer money on joyriders is something that ought to be discussed in parliament and resolved. It happens everytime a Kenyan contingent is travelling abroad be it the Olympics, the commonwealth games or the All Africa games.
Grandiose Corruption
Everytime a sponsor provides uniforms and other equipment to Kenyan sports teams, most of it ends up in the hands of unscrupulous officials who end up selling it or distributing it, The London Olympics were no different. The daily Nation reported that While US sportswear firm Nike, on a multi-million shilling deal to kit Kenya's Olympics teams, delivered 200 bags containing an array of training and competition kit and shoes, only a package of 50 arrived at the Team Kenya camp. An official , Francis Paul said ""We distributed the kit to Athletics Kenya, journalists, government officials and sponsors." Nike officials are livid because the sports kit was meant to be distributed amongst the athletes not the officials or sponsors. Things got so bad that David Rudisha had to visit the Nike Store to get running shoes.
This kind of corruption is common place amongst Kenyan officials and has been the biggest hindrance to Kenya's sports teams. It is up to the ministry of sports led by Paul Otuoma to put in places structures that can prevent this kind of corruption from happening.
Corruption like this hinders potential sponsors from supporting Kenyan sports teams financially because they know that the money and equipment they donate is likely to end up being taken by officials.